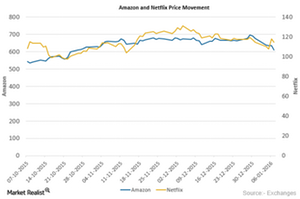 Amazon Added 3 Million Prime Members in One Week
Amazon Prime gets 3 million new members
Consumers are buying more online, and online vendors are coming up with more new tactics to lure potential buyers. In the third week of December, Amazon added 3 million new Amazon Prime members. Amazon's CEO (chief executive officer) Jeff Bezos said, "This was another great holiday season to be a Prime member, and we welcomed three million new members in the third week of December alone."
Amazon Prime members receive video streaming services and free package delivery. More Amazon Prime members mean more customers and more purchases. Amazon's video streaming service competes with Netflix (NFLX), which added 3.6 million users in fiscal 3Q15 for a total of 63.2 million members.
Article continues below advertisement
Subscribers spend more on Amazon
In 2015, more than 200 million Amazon Prime customers placed their orders online and doubled their viewing hours on Prime Instant Video compared to 2014. According to Consumer Intelligence Research Partners (or CIRP), Amazon had around 47 million US subscribers in 2015, and they were spending more on Amazon's Web portals than non-subscribers. Amazon hasn't disclosed any figures on its Amazon Prime members.
Macquarie Research estimates that 25% of US households were Amazon Prime members in 2014 and that there were 7 million additional new members in 2015. It estimated that memberships would double by 2020 as Amazon offers faster, more reliable service such as same-day delivery in some markets and a robust video streaming service.
Amazon accounts for about 50% of online sales growth in the United States and 24% of total retail sales growth across all channels. The biggest retailer, Walmart (WMT), accounted for 16% of holiday shoppers.
The PowerShares QQQ ETF (QQQ) is a portfolio of 107 stocks. Its top four stocks are Apple (AAPL), Microsoft (MSFT), Amazon (AMZN), and Google (GOOG), which constitute 13.0%, 7.4%, 5.1, and 4.5% of QQQ, respectively.