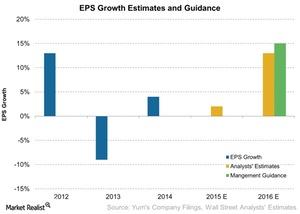 When Will Yum! Complete the Separation of Its China Division?
Separation by the end of 2016
On October 20, 2015, Yum! Brands (YUM) announced that it will separate its China division from the rest of its business. The company is expected to complete this separation by the end of 2016. Upon separation, there will be two independent companies that will trade publicly, namely Yum! Brands and Yum! China.
Article continues below advertisement
Returning billions to shareholders
The company also stated that these two companies will provide value by delivering an EPS (earnings per share) growth of 15% annually from both as compared to an EPS growth of 10% by just having one company. Between the announcement date and the separation date of the two business entities, the company stated that it intended to return $6.2 billion its shareholders.
Yum! China
The separation would allow Yum! China to operate independently and create an opportunity for it to add its own brands. Many people may not have heard, but Yum! Brands also owns two local restaurant brands in China by the name of Little Sheep and East Dawning. Yum! China will be headed by Micky Pant, who was previously working under the capacity of Yum Restaurants International's CEO with Yum! Brands.
You can invest in Yum! Brands through the Consumer Discretionary Select Sector SPDR ETF (XLY). XLY invests about 8% of its portfolio in McDonald's (MCD), Chipotle Mexican Grill (CMG), and Starbucks (SBUX).