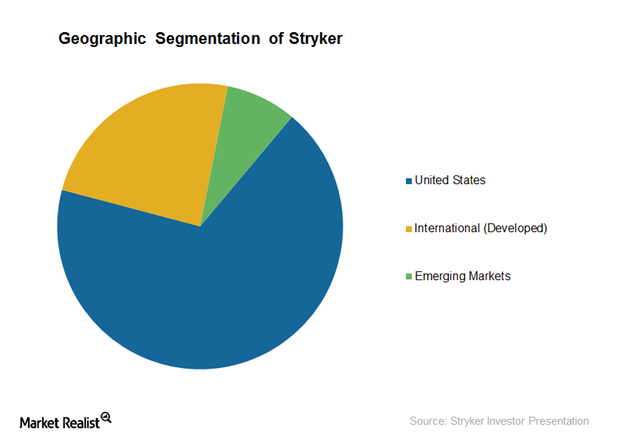 Understanding the Geographical Segmentation of Stryker
An overview of Stryker's geographical segmentation
Stryker Corporation (SYK) is a global medical technology company focused on expanding its presence across international markets. But the United States continues to be the company's largest market, generating around 68% of its total revenues. Other developed countries represent around 24% of the total revenues of the company whereas emerging markets contribute about 8%.
Stryker is continuously striving to expand its operations in international markets through acquisitions and new business models, mainly focused on Europe among developed countries, China, India, and other emerging nations.
Article continues below advertisement
Europe, Stryker's under-tapped market
Stryker's presence in Europe is represented by more than 6,000 employees, 12 manufacturing facilities, and a central distribution center in Netherlands. Approximately $1 billion of the Stryker's total sales of $9.7 billion were generated in Europe in 2014. But the company has a far lower market share in Europe than in other developed markets, which means that Europe represents lots of potential growth opportunities. Also, according to the diagram below, which represents the sales mix of Stryker in 2013, Stryker's MedSurg and Neurotechnology segments are the areas that represent potential opportunities for growth in Europe.
In the beginning of 2015, Stryker established a Trans-Atlantic operating model, under which the company aims to reorganize and restructure its operations in Europe, in order to improve operating efficiencies and capture a larger market share in the region. As part of this strategy, the company established its European regional headquarters in Amsterdam, the Netherlands, in January 2015 and has made significant investments in sales and marketing in the region.
Article continues below advertisement
Stryker's emerging markets
Emerging markets represent approximately 8% of Stryker's total sales. The company aims to increase its market share to double digits over the next few years through various strategic expansions and acquisitions. Stryker has primarily been in the business of premium products, but in order to enter the mid-tier market segment, it acquired Trauson, a leading trauma manufacturer in China with a strong position in the spine segment. The company plans to soon introduce Trauson products in other emerging markets, with a focus on India and Brazil over the next two years.
Major global medical device companies that provide strong competition to Stryker include Medtronic (MDT), Zimmer Biomet (ZBH), and Johnson & Johnson (JNJ). for diversified exposure to Stryker, investors can invest in the iShares S&P 500 Growth ETF (IVW), which tracks index consisting of large-cap US securities. Stryker accounts for approximately 0.3% of IVW's total holdings.
Now let's look at Stryker's inorganic growth strategy.