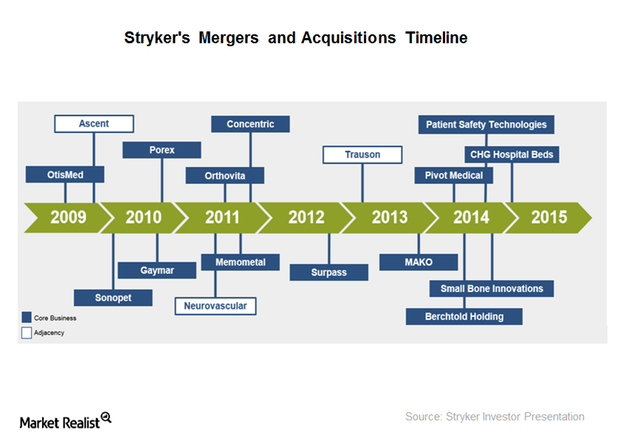 How Inorganic Growth Strategy of Stryker Is Driving Growth
Stryker's growth strategy
Stryker Corporation (SYK) has expanded its product portfolio and geographic reach through mergers and acquisitions as well as through innovative product development. In 2014, the company witnessed a sales growth of 7.3%, of which 1.5% represented growth through acquisitions and collaborations.
The diagram above lists all the acquisitions Stryker has entered into since 2009, and as we can see, most of the deals have been in the core business areas, thus expanding and strengthening the existing businesses of the company while supplementing organic growth.
Article continues below advertisement
Article continues below advertisement
Major strategic acquisitions driving growth
Stryker acquired Trauson, a Chinese orthopedic device giant, for $764 million in a deal that completed on March 1, 2013. With the acquisition of Trauson, Stryker established its presence in China, a potential growth market. The acquisition aims to capture the mid-tier segment of the market and expand company's reach in emerging markets, where hospitals cannot afford the premium products offered by Stryker. The company continues to witness significant growth in China over a period of more than a year after the acquisition.
MAKO Surgical, a leading player in robot-assisted surgery in the orthopedics sector, was acquired by Stryker in a deal that completed on December 17, 2013. The company faced certain difficulties integrating the two platforms during 2014, but it witnessed a growth in adoption of the MAKO products. Stryker sold 13 robots in the third quarter of 2015, compared to the sale of 9 robots in the previous quarter. Also, a recent approval for the use of Stryker's total knee and hip implants on MAKO's Robotic Arm Interactive Orthopedic System, or RIO, is expected to lead to a gain in market share.
Article continues below advertisement
Stryker's most recent acquisitions
As part of its capital allocation strategy, the company spent $916 million in 2014 in various mergers and acquisitions. In September 2014, Stryker acquired Small Bone Innovations, which manufactures devices to treat trauma and injuries in small bones, with the aim of strengthening its trauma and extremities sub-segment.
In its MedSurg segment, Stryker expanded its product portfolio through the acquisition of Berchtold Holding, Patient Safety Technologies, Pivot Medical, and CHG Hospital Beds. Berchtold Holding and Pivot Medical sells operating room equipment and innovative hip arthroscopy products, respectively, which has helped broaden the segment's product portfolio in endoscopy segment. Patient Safety Technologies provides compliance software to help eliminate retained foreign objects in patients after the surgery. CHG hospitals is a privately held company that manufactures low-height hospital beds and related accessories.
Other major companies in the US medical device industry that have been involved in multiple mergers and acquisitions include Zimmer Biomet (ZBH), Medtronic (MDT), and Becton Dickinson (BDX). Investors seeking to capitalize on the growth potential of Stryker while getting diversified exposure might consider investing in the Health Care Select Sector SPDR Fund (XLV). Stryker accounts for around 1.1% of the total holdings of XLV.
Now let's look at the risks Stryker is facing at the end of 2015.