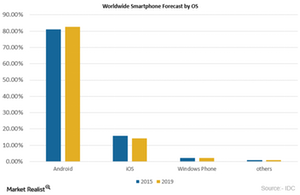 Has the Smartphone Reached Its Maturity Stage?
Smartphone shows single-digit growth for the first time
The smartphone growth cycle will reach its maturity stage at the end of this year. For the first time, smartphones are showing single-digit growth worldwide, according to IDC (International Data Corporation).
IDC has estimated that the growth of worldwide smartphone shipments will reach 1.4 billion units, an increase of 9.8%, in 2015. IDC reported slower growth in Latin America, Western Europe, and Asia-Pacific, which it says will will continue from 2015–2019. This will have a huge impact on shipments of the Windows Phone as well as iOS and Android.
Article continues below advertisement
Article continues below advertisement
China's market growth could remain stagnant
The majority of the smartphone market is in China. China's recent economic downturn, however, has affected smartphone growth. But IDC estimates that China will always remain at single-digit growth for smartphone shipments because smartphones are largely becoming a replacement market.
The Middle East and Africa are expected to see the highest growth of 50% YoY (year-over-year) in smartphone shipments, which exceeds the growth of the Indian and Indonesian markets.
Smartphone driver
The extensive growth of the smartphone market has now come down to single-digit growth. The major driver for its growth has been and will remain to be quality low-cost smartphones in a highly emerging market. The quality and cost factors mainly depend on value-oriented first-time smartphone buyers and replacement customers.
In the high-growth smartphone shipment market, the replacement cycle is less than two years because the components that go into developing the smartphone don't last more than a year or two. This creates challenges for vendors to choose a suitable price that will attract both first-time buyers and replacement customers.
The PowerShares QQQ ETF (QQQ) is a portfolio of 107 stocks. The top four stocks are Apple (AAPL), Microsoft (MSFT), Amazon (AMZN), and Google (GOOG), which make up 13.0%, 7.4%, 5.1, and 4.5% of QQQ, respectively.