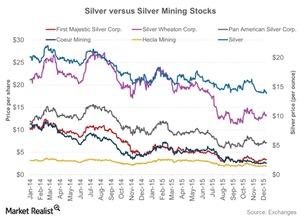 How Silver Prices Are Influencing Major Silver Miners
Silver miners
Many of the metal miners that have their core mining assets in silver have seen their prices fall in the past two years. The decline is most likely due to the drastically falling price of silver, which has retreated a whopping 12% in 2015. The current close of $14 for silver is about 30% lower than its $20 price at the beginning of 2014.
Mining companies like First Majestic Silver (AG), Silver Wheaton (SLW), Pan American Silver (PASS), Coeur Mining (CDE), and Hecla Mining (HL) are primarily into silver exploration, but they also mine a few other metals like zinc and lead. However, a significant portion of their revenue comes from silver.
Article continues below advertisement
Correlation coefficient
As the above graph visibly shows, silver miners have clearly followed a similar path to silver in the past two years, though some are more sensitive to silver prices than others. We will examine the correlation coefficient of these mining stocks with silver to give us an idea of their relative price performance.
AG, SLW, PAAS, CDE, and HL have a correlation coefficient with silver of 0.97, 0.88, 0.96, 0.92, and 0.77, respectively. Thus, First Majestic Silver (AG) is the most responsive to the price changes in silver. A 0.97 correlation suggests that about 97% of the time AG would move in the same direction as silver. The least correlated with silver is Hecla Mining at 0.77.
100-day moving average
Among the five silver miners, CDE and HL are all currently trading at a 13.3% and 5.7% discount, respectively, from the 100-day moving average price. The possibility of reversion exists when the trading prices hold below the 100-day moving averages. The five stocks mentioned above together make up 9.1% of the VanEck Vectors Gold Miners ETF (GDX).