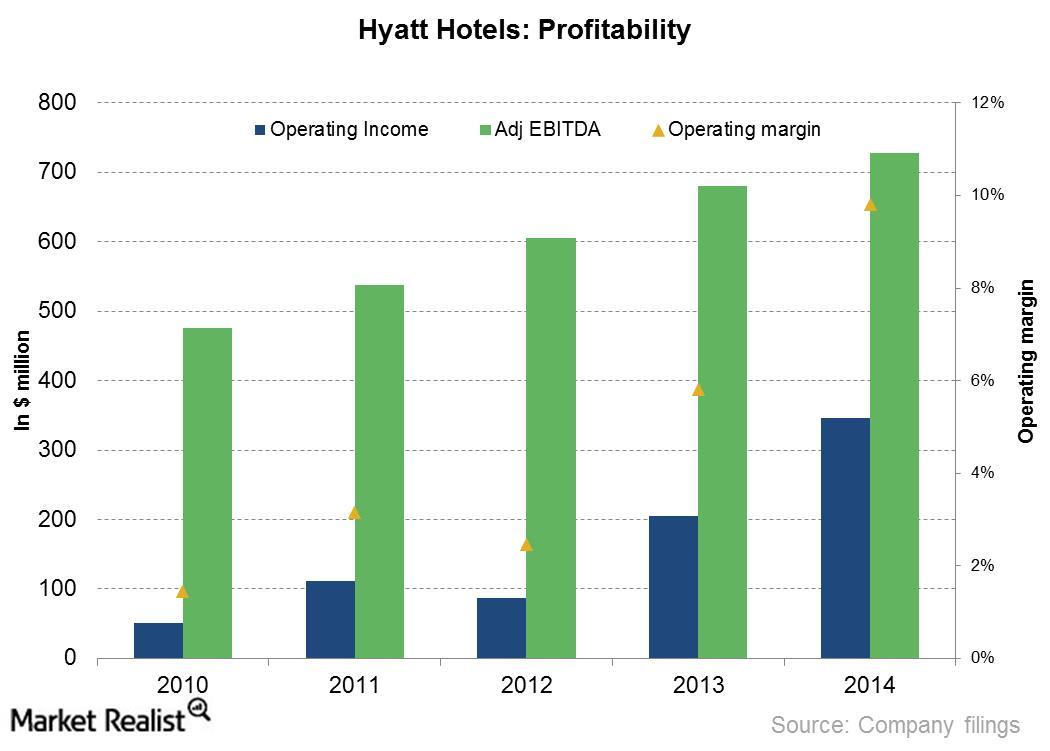 Profitability Margins Grew for Hyatt Hotels
Operating margin
Operating margins for Hyatt Hotel (H) increased from 1.4% in 2010 to 6.3% in 2014. The growth in margins was largely driven by steady growth in revenue and declining expenses from the owned and leased hotels segment.
Among Hyatt's peers, Wyndham (WYN) had the highest operating income at 17.8%, followed by Hilton (HLT) at 15.9%, Starwood (HOT) at 14.8%, and Marriott (MAR) at 8.4%. Hyatt has the lowest operating margin due to high depreciation and amortization costs recorded by the company. Hyatt has a relatively larger portion of owned properties, resulting in high depreciation and amortization costs.
Article continues below advertisement
Adjusted EBITDA and net income
Adjusted EBITDA (earnings before interest, tax, depreciation, and amortization) for Hyatt grew from $476 million in 2010 to $728 million in 2014. Its EBITDA margin increased from 13.5% in 2010 to 16.5% in 2014. This growth is largely driven by strong growth in revenue, which in turn was driven by growth in its average daily rate (or ADR) and occupancy rate.
Hyatt (H) has one of the lowest EBITDA margins among its peers. Hilton (HLT) had the highest EBITDA margin, at 22.4%, followed by Wyndham (WYN) at 22.2%, Starwood (HOT) at 19.5%, and Marriott (MAR) at 9.5%. Net income for the company grew from $66 million in 2010 to $384 million in 2014.
The lower profitability of Hyatt compared to its peers can be explained by its relatively larger exposure to full-service hotels. Full-service hotels normally give lower margins than select service hotels due to the high cost of operations. According to a study done by PKF Hospitality Research, from 2005 to 2011, net operating income for select service hotels was 36.5% compared to 25.7% for full-service hotels.
Investors can gain exposure to the hotel sector by investing in the First Trust US IPO Index ETF (FPX), which invests about 6% in the industry.