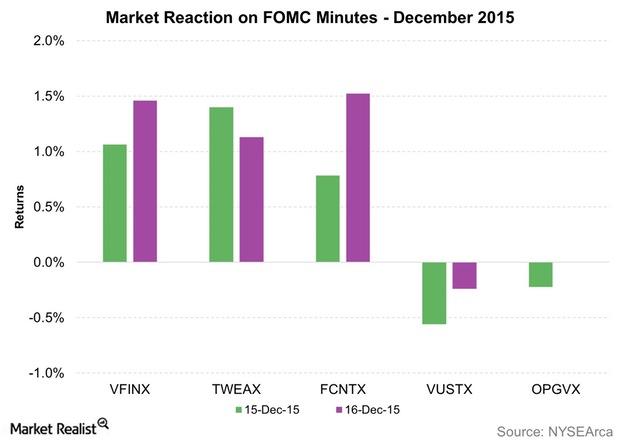 How Did the Markets React to the Fed's Rate Hike?
By David Ashworth

Dec. 4 2020, Updated 10:53 a.m. ET
Equities rose
For the past month or so, several equity investors have anticipated a rate hike and factored it into stock prices, readying their portfolios for the event. Because of this, when the rate hike did occur on December 16, 2015, equity markets were not impacted negatively, even though they have been big beneficiaries of the low–interest-rate regime.
Financials gained, and utilities such as NRG Energy (NRG), Ameren (AEE), and Duke Energy (DUK) rose sharply.
Article continues below advertisement
The Vanguard 500 Index Fund Investor Class (VFINX), which tracks the S&P 500 index, was up 1.5% at the close of trade on December 16. A day before, it had risen 1.1%. The American Century Equity Income A Fund (TWEAX), which is actively managed, returned 1.1% on December 16 and 1.4% on the previous day. The Fidelity Contrafund (FCNTX) was up 1.5% on the day of the announcement, rising more than the other two funds.
Treasuries were mixed
Yields were up almost throughout the Treasuries yield curve. The highest rise was seen on the 3-year note, which saw yields rising by 6 basis points on December 16 from the previous day. From the ten to 30-year maturity bucket, yields were up 2–3 basis points.
Among associated mutual funds, the Vanguard Long-Term Treasury Fund Investor Class (VUSTX), which invests in longer-maturity Treasuries, fell by 0.2% on December 16, after having fallen 0.6% the previous day. Meanwhile, the Oppenheimer Limited-Term Government Bond Fund Class A (OPGVX), which invests in shorter maturity Treasuries, was flat for the day, after having fallen 0.2% the previous day.
What should mutual fund investors watch out for?
Though the rate hike happened according to expectations, a bit of short-term volatility cannot be ruled out as markets gauge the next steps by the Fed. Investors need to consider that the environment during this rate hike is quite different from the one witnessed in the previous three cycles. At this time, it will be sound to wait and watch for further developments.
From the next article onward, we'll look in detail at a few pointers that policymakers had mentioned in the December policy statement. We'll look at consumer and business spending first.