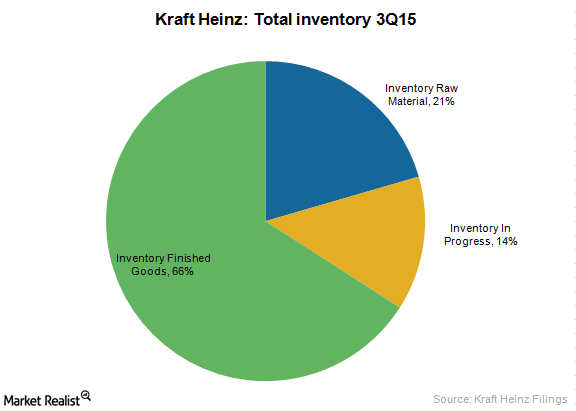 Sizing up Kraft Heinz's SKU Rationalization Technique to Manage Inventory
The raw material of Kraft Heinz
The Kraft Heinz Company (KHC) purchases large quantities of raw materials including dairy products, meat products, tomatoes, coffee beans, nuts, potatoes, soybean and vegetable oils, sugar and other sweeteners, corn products, and wheat. Additionally, the company purchases a substantial quantity of resins, metals, and cardboard to package products and natural gas to operate the manufacturing facilities.
Article continues below advertisement
The company continuously monitors the worldwide supply and cost trends of these commodities. The company has centralized its procurement to reduce these costs. Notably, increases in the raw material prices may affect Kraft Heinz and its peers in the industry including Mondelēz International (MDLZ) and McCormick & Company (MKC).
Kraft Heinz's SKU rationalization
Heinz has been using an inventory management technique, SKU (stock keeping units) rationalization to focus on profitable growth. Under this method, the company will use an analytical method to determine which SKUs to add, remove, or retain in its merchandise assortment maintain only strategically important SKUs. This technique helps to improve sales and profitability by focusing on the assortment that are moving and productive.
After Heinz took over Kraft Foods Group, the combined entity, the Kraft Heinz Company, is led by 3G Capital's executive, Bernardo Hees, as the CEO (chief executive officer) of the combined company.
Kraft Heinz does not expect the same level of SKU rationalization compared to what Heinz has applied considering the negative impact of SKU rationalization on the revenue side.
Kraft Heinz's ETF exposure
Kraft Heinz is a component of the S&P 500 Index (SPY) and part of the Consumer Staples Select Sector SPDR ETF (XLP). The company constitutes 0.23% and 2.4% of SPY and XLP, respectively. Food companies make up 18.5% of XLP's portfolio, while food and beverage companies make up 39.6% of XLP's portfolio.
Continue to the next part of this series for a look at Kraft Heinz's cost-reduction initiatives.