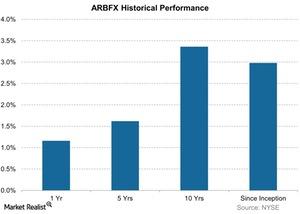 All You Should Know about the Alternative Mutual Fund ARBFX
By Ivan Kading

Updated
Arbitrage fund class
Merger arbitrage is a leading hedge fund strategy that aims at generating riskless profit. Since access to hedge funds is limited only to institutional investors, retail investors can look to alternative mutual funds that seek to replicate traditional hedge fund strategies. The Arbitrage Fund Class R (ARBFX) is an alternative fund that uses the merger arbitrage strategy to achieve its investment objectives.
Article continues below advertisement
Historical performance
The graph above shows the historical performance of ARBFX. It is a relatively old alternative fund, existing since September 18, 2000. The fund class "R" classifies it as a retail-specific fund. Historically, the fund has given a positive return to investors. As of December 22, 2015, the fund has given a total YTD (year-to-date) return of 0.1%, which is better than many funds with similar holdings, as they suffered due the high market volatility in the current year. The fund seeks to deliver consistent, positive absolute returns with lower volatility and correlation relative to the broader market S&P 500 (VFINX).
Portfolio holdings
This fund invests in companies being acquired in publicly announced mergers and acquisitions. The fund currently is invested in equity stocks such as Williams Partners (WPZ), AbbVie (ABBV), Sigma-Aldrich (SAIL), Harris (HRS), Jazz Technologies (JAZZ), among others. The merger arbitrage strategy aims to capture the difference, or spread, between the price of the target company's stock and the price offered for these securities by the acquiring company. In the next part of this series, we'll analyze the top holdings of ARBFX.