A Key Look at Abbott Laboratories' Acquisitions and Divestments
Inorganic growth through acquisitions has led to the expansion of Abbott Laboratories across geographies and to the broadening of its product portfolio.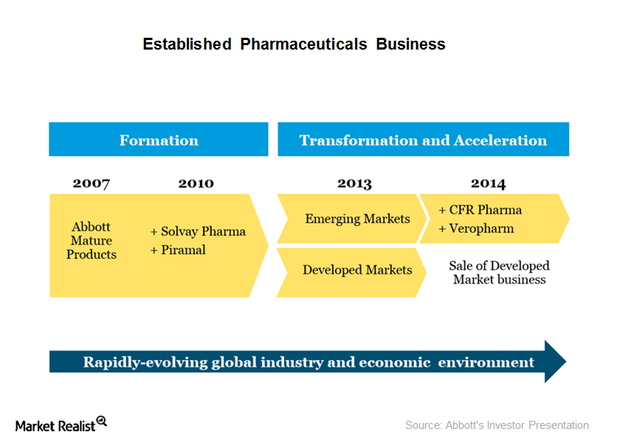 Abbott Laboratories' inorganic growth
Inorganic growth through acquisitions has led to the expansion of Abbott Laboratories (ABT) across geographies and to the broadening of its product portfolio over the years. Most of the acquisitions undertaken by Abbott Laboratories have been strategic investments, rather than just expansion mechanisms, thus bringing synergies and cost efficiencies to the company.
Article continues below advertisement
Article continues below advertisement
Abbott's recent acquisitions
Abbott Laboratories reorganized the Established Branded Generics Pharmaceuticals business segment in 2015 through a number of acquisitions and divestments with the aim of streamlining and focusing its business on emerging markets and disposal of the slow-growth mature developed market segment.
The company completed the acquisition of CFR Pharmaceuticals, a Chilean pharmaceutical company, for approximately $3.4 billion, which included the assumed debt. In another acquisition in December 2014, Abbott acquired control of Veropharm, a leading Russian pharmaceutical company, for $315 million, assuming a debt of $90 million. These acquisitions resulted in the expansion of the company's business in Latin America and emerging markets.
An introduction to electrophysiology
Abbott Laboratories entered into a new segment of electrophysiology, a potential device segment with competition from some of the major medical device companies in the United states such as Medtronic (MDT), through the acquisition of Topera for approximately $250 million in cash and $300 million on the fulfillment of certain sales and regulatory milestones.
Some of the other acquisition deals completed in 2013 by Abbott Laboratories, including the acquisition of IDEV technologies for $310 million and OptiMedica for $260 billion, in a bid to expand its endovascular product portfolio and to enter into the laser-assisted cataract surgery market.
Abbott's recent divestments
On January 1, 2013, Abbott Laboratories completed the spin-off of its research-based proprietary pharmaceutical business segment, named AbbVie (ABBV). The newly formed AbbVie possesses the rights to the blockbuster drug Humira after the spin-off. With the separation, the company aims to mainly focus on its medical technology business.
After the separation, in its efforts to reorganize and streamline the established pharmaceuticals segment, Abbott Laboratories sold its developed markets branded generics pharmaceutical segment to Mylan, a global pharmaceutical company headquartered in Netherlands. Abbott Laboratories also sold its animal health business to Zoetis (ZTS) for $255 million in order to focus its business in the domain of human health.
Investors can gain exposure to Abbott Laboratories (ABT) through the iShares US Medical Devices ETF (IHI), which has around 10.6% of its total holdings in ABT.
Now let's move to Abbott Laboratories' fundamentals.