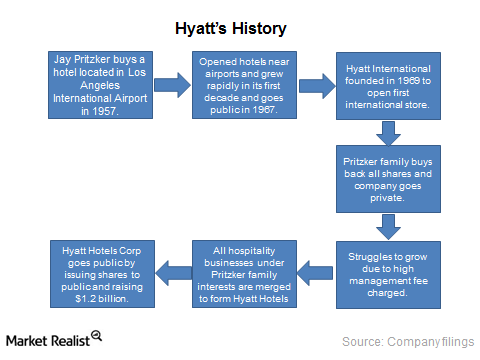 The Investor's Introduction to Hyatt Hotels
About Hyatt Hotels
Hyatt (H) is a widely recognized global hospitality group and operates industry-leading brands such as Park Hyatt, Andaz, Hyatt, Grand Hyatt, and Hyatt Regency. The company has a history of building strong brands and has launched six successful brands in the last ten years. As of December 31, 2014, the company operated 587 properties with more than 155,000 rooms.
Article continues below advertisement
Hyatt's history
The company was launched in 1957 when American entrepreneur Jay Pritzker bought Hyatt House Hotel adjacent to Los Angeles International Airport. It was reported that Pritzker made a $2.2 million offer for the hotel on the spot when he noticed that the hotel's coffee shop was unusually busy while guests waited for their flights. The coffee shop was filled with business travelers—and hotel guests—who needed a place to stay before and after their flights.
Pritzker predicted a boom in air travel and increased demand for hotels near air travel hubs. He partnered with his brother Donald and their family interests, continuing to open hotels near the airports in San Francisco and Seattle.
Hyatt grew rapidly in its first decade as the modern era of air travel took off in the early 1960s. The company, then called Hyatt Corporation, went public in 1962. Jay and Donald Pritzker started a new company called Hyatt International to open an international hotel in Hong Kong in 1969. Hyatt Corporation went private when entities associated with Pritzker family bought all public shares in 1979.
A slowdown
The company grew slowly in the 1980s and 1990s. Very few hotel owners adopted the Hyatt franchise due to the high cost of running their hotels, which was extravagaint compared to other hotels like Hilton (HLT), Marriott (MAR), and Starwood (HOT).
In 2004, all the hospitality businesses under Pritzker family interests were merged into Hyatt Hotels Corporation. Hyatt Hotels acquired AmeriSuites, an upscale chain of all-suite business-class hotels and Summerfield Suites, an extended stay hotel chain. These properties were renamed Hyatt Place and Hyatt House, respectively. In 2009, the company went public by issuing shares and raising $1.2 billion.
Investors can gain exposure to the lodging sector by investing in the First Trust Consumer Discretionary AlphaDEX ETF (FXD), which invests 9.32% in the lodging sector.
In the next article, we will discuss the competition faced by Hyatt in different business segments.