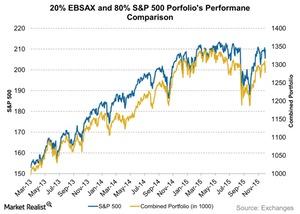 How Could Investing in EBSAX Affect Your Portfolio's Performance?
Risk-adjusted returns
The Equinox Campbell Strategy Fund Class A (EBSAX) seeks to generate attractive risk-adjusted returns across a broad range of market conditions through systematic investments in a diversified portfolio of futures and forward contracts. The top holdings of the fund include derivative contracts of currency pairs, equity indexes, commodities, and interest rates.
The Russell 2000, a major holding of EBSAX, includes holdings such as Tyler Technologies (TYL), Manhattan Associates (MANH), Anacor Pharmaceuticals (ANAX), CubeSmart (CUBE) and Dyax (DYAX). The graph above gives a comparative analysis of a mixed portfolio of EBSAX and the S&P 500 (VFINX).
Article continues below advertisement
Key portfolio diversification
The chart above compares a mock portfolio of 20% of EBSAX and 80% of the S&P 500. The graph shows that by adding EBSAX in S&P 500's portfolio, the total return of the market is reduced. Considering the total period of investment from the inception of EBSAX, the S&P 500 has given a total return of 37%. EBSAX has given a total return of 10.8% since inception. The combined return of the entire portfolio is 29.2%, which is excellent. Increasing performance is not always the sole goal for investment. Hedge fund strategies are primarily used to decrease the overall risk of the market over a portfolio.
Conclusion
The Equinox Campbell Strategy Fund Class A (EBSAX) is an alternative mutual fund that is a relatively new in the market but has managed to provide a positive return to its investors, unlike it peers. EBSAX uses the popular "managed futures" hedge fund strategy to achieve its investment goals. To read more about alternative funds that use the managed futures strategy, please see AQR Managed Futures Strategy Fund STR I (AQMIX).