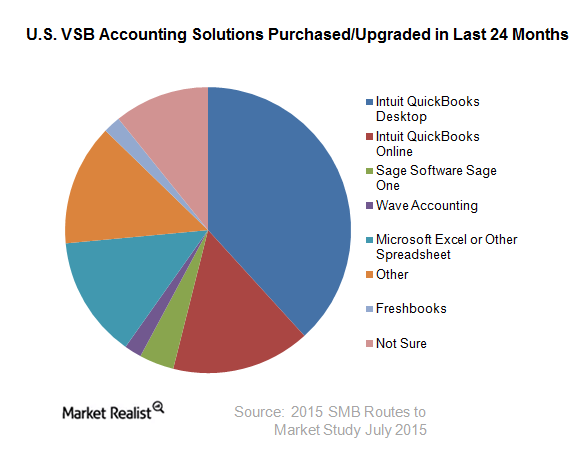 Intuit's Persistent Focus on Small Business Benefits Investors
Intuit's offerings dominate small businesses and small-to-medium businesses
In the prior part of the series, we discussed Intuit's (INTU) operating segments and its dependence on small businesses to generate a majority of its revenues. Intuit's tax and accounting software and offerings dominate the very small business (or VSB) accounting market in the United States, as you can see in the graph below. Microsoft (MSFT) Excel and other spreadsheets have ~14% market share in this space. VSB are businesses that have one to 19 employees.
Article continues below advertisement
Article continues below advertisement
Intuit is betting its future on cloud and big data
As we've already seen, Intuit has decided to divest its products that aren't in line with its future business strategy of enhancing its presence in the cloud. Quicken is Intuit's 32-year-old personal finance software. Intuit is getting rid of Quicken since it's a desktop product. The company recently announced its newest version, Quicken 2016, with separate editions for Microsoft (MSFT) Windows and Apple (AAPL) OS X.
QuickBooks and TurboTax are Intuit's small business and tax software offerings that have a significant presence in the cloud. The company's strategy to enhance its presence in the cloud appears to be gaining traction evidenced by an increase in subscriptions in fiscal 1Q16.
QuickBooks Online (or QBO), which the company first launched in 2004, accounted for 60% of new sales in fiscal 2015. Intuit expects its contribution to rise to 70% in fiscal 2016.
Intuit's dominant position in the US market gives it an edge over its peers. According to Laurie McCabe, a partner at SMB Group, Intuit is trying hard to win global business against competitors in Canada, the United Kingdom, India (EPI), and Australia (EWA). While it's still too early to comment on how the company's plan to focus on cloud and big data plays out, the company's ability to tap this market with its offering is likely to be an integral factor in raising it to the next level of growth.