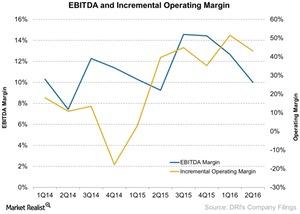 How Darden's Incremental Margins Have Expanded
Margins
A company's incremental operating margin is calculated as the change in operating income divided by the change in revenue over a period. Darden Restaurants' (DRI) adjusted EBITDA (earnings before interest, tax, depreciation, and amortization) margin increased 3% from the same quarter a year ago, and its incremental operating margin also increased 3% over the same period. According to the company, this increase was a result of a rise in same-store sales growth and lower costs related to commodities such as dairy and seafood. In its earnings call, the company stated that the margins also increased due to "accelerated progress with cost and expense reduction initiatives, and reduced marketing spend in line with annual expectations."
Article continues below advertisement
Changes in wages and incentives
The company anticipates the state-mandated wage increase to go into effect on January 1, 2016. As a consequence, wage-related costs for the company are expected to go up by 1.2%. Usually, to cover these costs, a company simply raises its menu price and passes on the cost to customers. However, Darden mentioned no such price increase in its earnings note.
During the quarter, the company also changed its incentive program for store-level managers at Olive Garden by offering a 3% bonus on achieving growth in same-store sales YoY (year-over-year). The managers will also receive a percentage of the company's profit growth. According to the company it has simplified its program because "in the past it was just much more complicated."
You may access Darden through the Consumer Discretionary Select Sector SPDR ETF (XLY). XLY's portfolio invests 0.3% in Darden, 4% in McDonald's (MCD), 3% in Starbucks (SBUX), and 1.5% in Yum! Brands (YUM).
2016 outlook
Darden expects to have savings of $80 million to $90 million in 2016 and $145 million to $165 million in 2017. These savings will be partly due to "improvements in our core operating business," according to the company.