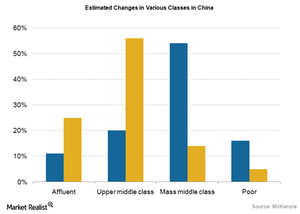 China's Middle Class Growth Is an Important Driver for Apple
Upper middle class in China growing at a rapid rate
China continues to be an important market for Apple (AAPL). Apple's revenues from Greater China, which includes China, Hong Kong, and Taiwan (EWT), grew at an impressive year-over-year rate of 99% in the last quarter. This growth rate is impressive considering the fact that China's economy has shown signs of slowing down over the last few months.
Over the long term, China has plenty of growth drivers that are important for Apple. One of the most important growth drivers is the growing percentage of people in China's upper middle class.
Article continues below advertisement
Article continues below advertisement
According to a report from McKinsey & Company, the percentage of upper middle class people in China (those with income ranges between 106,000 Chinese renminbi and 229,000 renminbi) will rise from 20% in 2012 to 56% by 2022. The percentage of mass middle class and poor will fall, as the chart above shows.
China and India are important markets for Apple
The increase of upper middle class people in China bodes well for premium brands such as Apple, Nike (NKE), and Gap (GPS). These brands depend largely on the purchasing power of a country's consumers.
Countries such as China and India (INDA) provide great potential to these brands. In an article titled Apple Made the Right Choice to Cut iPhone 5s Prices in India, we discussed how Apple reduced the price of its iPhone 5s in India, as India is an important smartphone market.