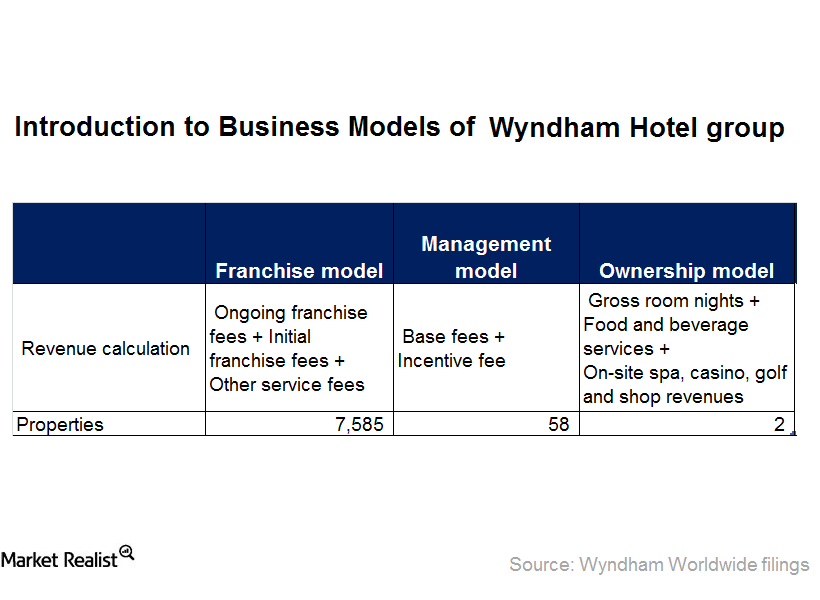 A Rundown of Wyndham Worldwide's Wyndham Hotel Group Segment
Overview of Wyndham Hotel Group
Wyndham Worldwide (WYN) operates its hotels under three models, namely, the franchise, management, and ownership models. The company operates most of its hotels under the franchise model, whereas Wyndham Hotel Group's competitors, including Marriott International (MAR), Starwood Hotels & Resorts Worldwide (HOT), and Hyatt Hotels Corporation (H), have higher percentages of hotels under the management and ownership model.
Article continues below advertisement
The franchise model
In this model, Wyndham Hotel Group lets hotel owners use one of its brand names and, in return, charges a percentage of room sales earned by the hotel. Revenues earned include an initial franchise fee, ongoing franchise fees, and other service fees. In return, hotel owners receive access to all trademarks, global sales efforts, operations support, training, and distribution channels associated with Wyndham Hotel Group.
The management model
Wyndham Hotel Group, in addition to the services provided under its franchise model, also provides professional oversight and comprehensive operations support to hotels under its management model. Other services provided include the following:
hiring, training, and supervising hotel managers and employees
annual budget preparation
local sales and marketing efforts
financial analysis
food and beverage services
In return, Wyndham Hotel Group charges a base fee and an incentive fee, which are pegged to the hotels' revenues and operating profits, respectively.
The ownership model
In this model, Wyndham Hotel Group is completely responsible for day-to-day operations of hotels. The company may either lease or own the property and completely bears both the risk and rewards related to the hotel. Revenues earned under the ownership model includes 100 percent of the revenues earned from the owned hotels.
As of September 30, 2015, Wyndham Hotel Group owned two hotels—Bonnet Creek Hotel, near the Walt Disney World resort in Florida, and Rio Mar Hotel, located in Rio Grande, Puerto Rico. Investors can gain exposure to Wyndham Worldwide by investing in the PowerShares DWA Momentum Portfolio (PDP), which invests 7.4% of its total portfolio in the lodging sector and 1.5% in Wyndham Worldwide (WYN).
In the next article, we'll discuss the regional distribution of hotels under Wyndham Hotel Group.