Becton, Dickinson and Company's Acquisitions and Collaborations
Becton, Dickinson and Company's (BDX), or BD's, growth strategy includes acquisitions and collaborations.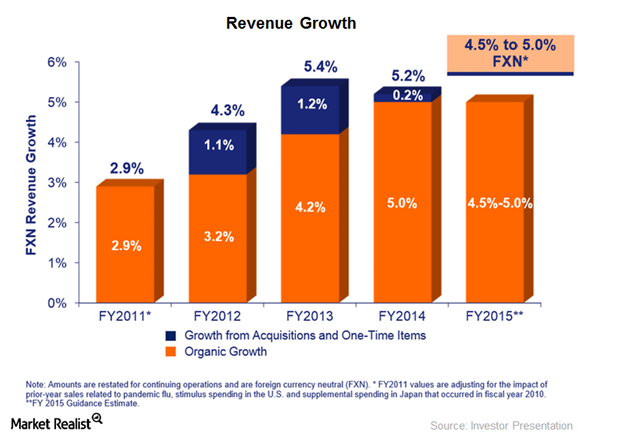 Overview
Becton, Dickinson and Company (BDX), or BD, has a growth strategy that consists of developing new products, entering strategic acquisitions, and expanding the company's product portfolio across markets. We'll discuss some of the company's recent acquisitions and collaborations further in this article.
As depicted in the graph above, BD's organic growth has increased to 5% over the years but its inorganic growth has witnessed a decline. Therefore, there is an opportunity to invest in significant mergers and acquisitions to accelerate growth.

Article continues below advertisement
Article continues below advertisement
Recent acquisitions
BD (BDX) has completed a number of strategic deals and acquired smaller businesses to expand its product portfolio and market reach. In the first quarter of 2015, the company acquired GenCell Biosystems, an Irish biotechnology company. This acquisition granted BD entry into the next generation sequencing market and the opportunity to expand its genomics-based product portfolio.
In 2015, BD also acquired CRISI Medical Systems, a San Diego-based medical technology company specializing in the safety and delivery of IV injectable medications. BD and CRISI are jointly developing the BD Intelliport Medication Management System, a medication management solution for IV bolus injections. We'll discuss this product in more detail later in this series.
Additionally, in the third quarter of fiscal 2015, BD acquired ARX, a Europe-based pharmacy automation distributor. The company also acquired Cellular Research, a biotechnology R&D (research and development) company, thereby strengthening its R&D capabilities.
Recent collaborations
Seegene, a developer of multiplex molecular technologies and diagnostics, is collaborating with BD to develop multiplex real-time PCR (polymerase chain reaction) reagents for the existing BD MAX system. This system is discussed in more detail later in this series. BD is also collaborating with Aethon to assist hospital pharmacies with intravenous medication preparation and delivery tracking, and with Medtronic (MDT) for the production of insulin infusion sets for patients with diabetes. BD constitutes around 5.8% of the iShares US Medical Devices ETF (IHI).
Other major companies in the US medical device industry that have been involved in several acquisitions and collaborations include Zimmer Biomet (ZBH), Danaher (DHR), and Wright Medical Technology.