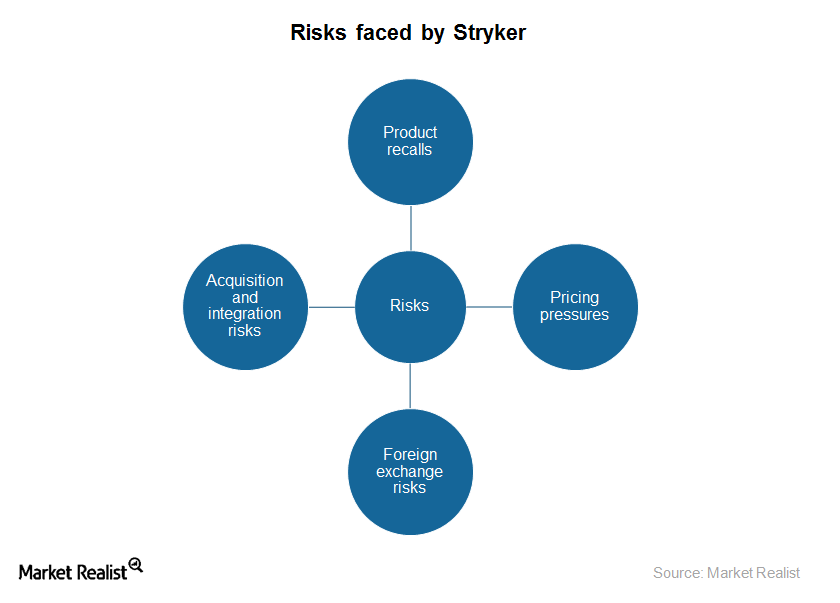 Assessing Stryker's Major Risks at the Dawn of 2016
Stryker's risk profile
Stryker Corporation (SYK) is a leading medical technology company and thus is subject to a number of challenges impacting medical technology industry. These challenges include the following:
government regulations
tax laws
pricing pressures
changing business models in the healthcare industry
In addition to the systematic risks faced by the company, Stryker is subject to a number of unsystematic risks—that is, risks specific to the company in particular. Some of the systematic risks that Stryker faces include the following:
product recalls
acquisition and integration risks
pricing pressures
foreign exchange risks
Article continues below advertisement
Stryker's recent product recalls
Medical device companies are often subject to expenses incurred by product recalls due to failures or complications. Stryker has had to recall a number of its products including knee, hip, and elbow implants over the past few years.
For example, Stryker's innovative hip implants Rejuvenate and ABG II, which were introduced in 2008 and 2009, respectively, were implanted in 20,000 patients in the United States and recalled in 2012. The reason for the recall was product corrosion, which led to the release of harmful metal ions in the patient's body.
The company settled thousands of related lawsuits for $1.43 billion in 2014, and Stryker is likely to incur more settlement charges in coming years as the people who did not participate in the 2014 settlement are still eligible to file a lawsuit.
Acquisitions and integration risks
According to the Stryker's capital allocation strategy, the company allocates a significant amount of capital toward mergers and acquisitions every year. Due to a large number of acquisitions it undertakes, the company is subject to various integration risks.
For example, MAKO, a leading Chinese company that manufactures products in the robotic-assisted surgery market, was acquired by Stryker in December 2013. Integrating the robotic-arm assisted technology with the existing orthopedic business was a challenge for the company in addition to the introduction of a disruptive technology in an industry that has seen primarily incremental innovations. Thus, in 2014, lower-than-expected MAKO sales were reported. Although the company has gained considerable momentum in 2015, this initiative still remains a challenge for Stryker.
Article continues below advertisement
Stryker's pricing pressures
The medical device industry is subject to significant price pressures due to intense competition, government healthcare policies, and the introduction of the medical device excise tax. In 2014, Stryker reported a net revenue increase of 7.3%, which was negatively impacted by a 2% decline in prices. The company expects such price pressures to continue to impact its revenues in the future.
Stryker's foreign exchange risks
Due to the Stryker's diversified presence in international markets, the strong US dollar continues to present significant risks to the company's revenues. In 2014, Stryker's net revenue increase of 7.3% was impacted by a 1% decline attributed to the unfavorable impact of foreign exchange rates.
Other companies in the industry that face similar risks include Medtronic (MDT), Thermo Fisher Scientific (TMO), and Becton Dickinson (BDX). Investors can invest in the SPDR S&P 500 ETF (SPY), which provides diversified exposure to Stryker. Stryker accounts for around 0.17% of SPY's total holdings.
Let's look now at Stryker's valuations.