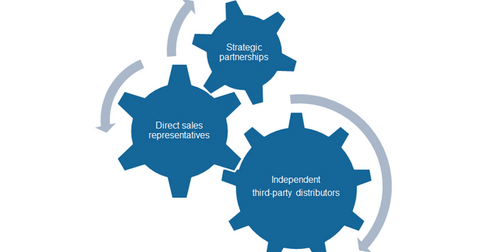 Assessing Medtronic's Marketing and Sales Strategy in 2015
By Sarah Collins

Updated
Medtronic's marketing and sales channels
In the United States, Medtronic's (MDT) medical devices and therapies sales channel previously consisted solely of direct sales representatives, whereas outside the US, the company sold its medical devices through a combination of direct sales representatives and independent distributors.
However, some of the company's products that were previously operated by Covidien, which Medtronic acquired in January 2015, are now sold through independent distributors in the US. Medical supplies products of Medtronic are mostly marketed through third-party distributors. This reflects one of the company's new strategies—namely, the combination of sales forces in different regions for specific device segments, in an effort to provide cross-selling efficiencies.
Article continues below advertisement
Medtronic's marketing strategy
In order to provide cost-effective, high-quality medical devices and therapies to its customers, Medtronic aims to organize its marketing and sales teams around physician preferences. Medtronic has thus dedicated specialized teams that help generate business through strong relationships with physicians, given their ability to understand patient needs while identifying opportunities to cross-sell products that could contribute to the overall growth of the business.
Medtronic's value-based healthcare model
But due to the increased focus on value-based healthcare and hospital consolidation, we have seen an increase in stakeholders, and physicians are no longer the sole influences in the medical device buying process. Thus, finding comprehensive solutions that provide a lower total cost of care has become paramount to Medtronic. The company has continued to acknowledge such changes and has evolved its marketing and sales strategies accordingly.
Some of the Medtronic's competing firms, such as Wright Medical Group (WMGI) and Cardinal Health (CAH), have implemented different sales models, such as rep-less models, wherein the medical device company provides device therapies through multiyear contracts and offers basic technical support to hospitals, leading to supply chain and logistics streamlining and significant cost savings for customers. Another major competitor of Medtronic in the US medical device industry is Boston Scientific Corporation (BSX).
The Vanguard Health Care ETF (VHT) is a diversified ETF with exposure to the healthcare industry. Approximately 3.2% of VHT's total holdings are in Medtronic.