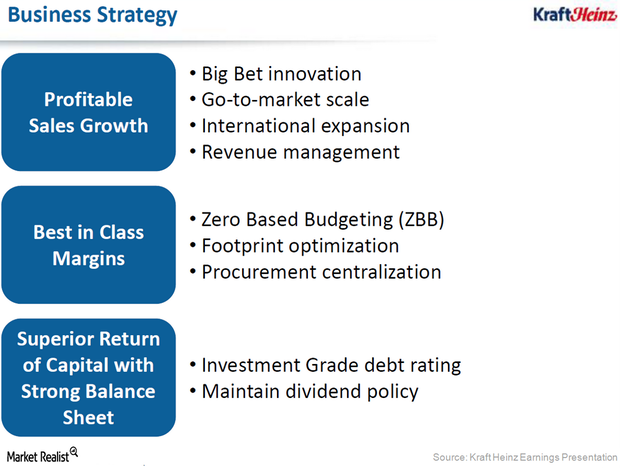 Analyzing Kraft Heinz's Objective of Profitable Sales Growth
Kraft Heinz's objectives
The Kraft Heinz Company (KHC) has set its strategy by the following three objectives:
profitable sales growth
best-in-class margins
a superior return of capital
Article continues below advertisement
Profitable sales growth
Kraft Heinz aspires to the following four pillars for profitable sales growth:
big bets innovation—fewer, bigger, and bolder
high investment in working media dollars
building aggressive sales team to leverage the scale of go-to-market capabilities
taking Kraft brands globally over time
Big bet innovation
Kraft Heinz plans to reinvest savings from cost initiatives into its brands and to refocus its strategic vision on innovation. The company's CEO (chief executive officer) Bernardo Hees has stated that "in the past, innovation effort has been too diffuse and diluted, introducing lots of products to see what works with no focus on profitability." But now, Hees claims, Kraft Heinz plans to focus on big, bold bets.
The company plans to invest wisely in innovations considering consumers' needs, marketing to support brand image, and launching products in the new markets to expand its geographic footprint.
According to IRI, Kraft Foods Group ranked first on a 2014 list of successful new product launches, particularly with its Lunchables Uploaded, which generated $143.2 million sales in its first year.
Key drivers
The company expects to drive profitable sales growth through revenue management, which optimizes price pack architecture and promotion strategy and improves the ROI (return on investment) on trade execution. The company also analyzes the rate of return on investment in promotion by categories, which will give an idea whether to invest in a better-returning promotion and grow the sales and profitability or bring down it to the profitability.
Kraft Heinz's peer in the packaged food industry (XLP), Pinnacle Foods (PF), also bets on the "game-changing innovation" strategy to win the market. In its open innovation strategy, Unilever (UN) has been looking for new ways to analyze what consumers want.
Kraft Heinz makes up 1.6% of the PowerShares ETF (QQQ). Food and beverages companies make up 3.2% of the holdings of QQQ.
Now let's look at Kraft Heinz's margins and returns.