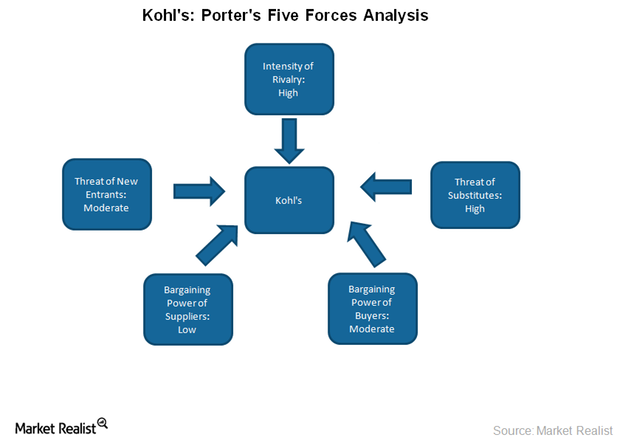 Analyzing Kohl's Positioning Based on Porter's Five Forces
Intensity of rivalry
Porter's Five Forces model is a framework for analyzing the level of competition within an industry. The five basic forces that are used in the analysis are the intensity of rivalry within the industry, the threat of substitutes, the threat of new entrants, the bargaining power of buyers, and the bargaining power of suppliers.
The intensity of rivalry is high in the department store industry. Kohl's Corporation (KSS) not only faces intense competition from established department store players such as Macy's (M) and Nordstrom (JWN), but also off-price retailers such as TJX Companies (TJX) and Ross Stores (ROST). It's also subject to rivalry from online retailers and discount stores.
Article continues below advertisement
Article continues below advertisement
Bargaining power of buyers and suppliers
Kohl's sells private label merchandise as well as national brands. The company purchases merchandise from several domestic and foreign suppliers. None of Kohl's suppliers individually accounted for more than 5% of the net purchases during fiscal 2014. Thus, suppliers have very low bargaining power.
Kohl's is a mid-tier department store that caters to the middle-class consumer. A large number of customers shop at Kohl's. As a result, customers do not normally have much influence due to the relatively small basket size of individual purchases. That's a favorable factor for Kohl's. However, the switching costs for consumers from one department store chain to another are low. This reflects the moderate bargaining power of buyers.
Threat of new entrants and substitutes
High capital requirements and the need for strong distribution channels create some barriers for the entry of new players and reflect a moderate threat of new entrants in the department stores industry. The merchandise sold by Kohl's, such as apparel, accessories, footwear, and home products, is not highly differentiated. This makes the threat of substitutes high.
Kohl's ETF exposure
Kohl's, along with Macy's and Nordstrom, constitutes 1.2% of the portfolio holdings of the Consumer Discretionary Select Sector SPDR ETF (XLY). These three department stores collectively account for 0.1% of the iShares Russell 3000 ETF (IWV) and 0.5% of the iShares Russell Mid-Cap ETF (IWR).
Continue to the next part for a look at Kohl's same-store growth.