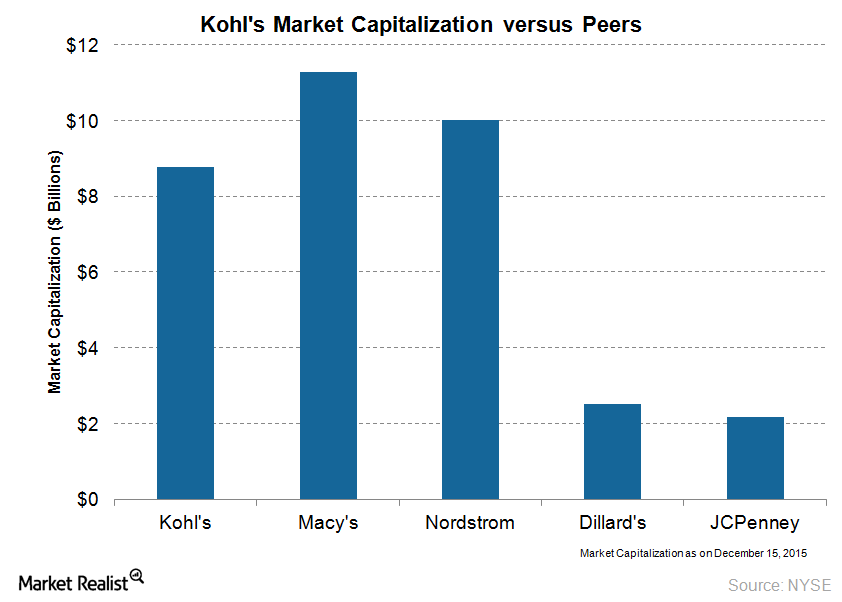 Analyzing Kohl's Opportunities and Threats after 3Q15
Kohl's growth opportunities
The consistent performance of off-price retailers like TJX Companies (TJX) and Ross Stores (ROST) has attracted department stores like Macy's (M) into the off-price space. Macy's entered off-price retailing in 2015 with its Macy's Backstage stores and is planning to further expand in the coming years. Nordstrom (JWN) had 194 off-price Nordstom Rack stores in the US as of October 31, 2015. But Nordstrom entered the off-price space with its first Rack store in 1973.
Article continues below advertisement
Article continues below advertisement
Kohl's Corporation (KSS) can look for growth opportunities in off-price retailing. The company opened its first Off-Aisle by Kohl's store in 2015, with a slightly different concept. The Off-Aisle by Kohl's store sells product returns at deep discounts, and the company has announced its plans to open two more Off-Aisle stores next year.
Kohl's plans for international expansion
Kohl's can look for growth prospects beyond the US. By comparison, rival Macy's operates a Bloomingdale's store in Dubai under a license agreement with Al Tayer Insignia. In 2018, Macy's is slated to open its first international Macy's store and the second for Bloomingdale's in Abu Dhabi. In August 2015, Macy's announced a joint venture with Hong Kong-based Fung Retailing, which will sell merchandise in China through an e-commerce presence on Alibaba Group's (BABA) Tmall Global.
Nordstrom opened its first international store in Canada in 2014 and two more stores this year. The company's expansion plans in Canada include the opening of three more stores by 2017 and also the launch of its Rack stores in 2017.
Threats to Kohl's growth after 3Q15
Kohl's comes under the consumer discretionary sector, which is sensitive to economic cycles. Kohl's is a part of the Consumer Discretionary Select Sector SPDR Fund (XLY) and the First Trust Consumer Discretionary AlphaDEX Fund (FXD). It accounts for 0.4% and 1%, respectively, of the portfolio holdings of XLY and FXD.
The level of consumer spending impacts the sales of Kohl's and its peers. Despite improvement in the economic conditions in the US, consumers continue to be cautious about their discretionary spending. Any unfavorable changes in the US macroeconomic environment may negatively affect consumer sentiment and have an adverse impact on Kohl's and other department stores.
For more updates, visit our Department Stores page.