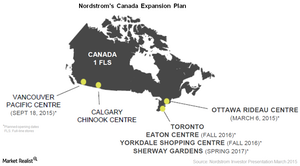 Nordstrom Announces Plan for 6 Canadian Stores
<p>In March, Nordstrom announced the opening of its second international location in Canada. Nordstrom plans to open six Canadian stores through 2017.</p>
Second store in Canada
In March 2015, Nordstrom (JWN) announced the opening of its second international location in Canada at Rideau Centre in Ottawa, Ontario. Nordstrom's 157,000-square-foot store includes five shoe departments; cosmetics and accessories areas; a wide offering of popular brands for women, men, and children; a bistro-style restaurant called Bazille; and an espresso bar.
Article continues below advertisement
Article continues below advertisement
International expansion
Nordstrom's store in Calgary's Chinook Centre, Canada, opened in September 2014. It marked the company's first international location. Including the two stores that are already open, Nordstrom plans to open six Canadian stores through 2017. Planned openings in Canada include the following:
Pacific Centre, Vancouver, on September 18, 2015
Yorkdale Centre, Toronto, in fall 2016
Toronto Eaton Centre in fall 2016
Sherway Gardens, Toronto, in spring 2017
The company also plans to open 15–20 off-price Rack stores in Canada starting in the fall of 2017. The company perceives the Canadian market as a $1.0 billion sales opportunity. Nordstrom's international expansion is expected to account for a significant portion of its capital expenditure of $1.2 billion in fiscal 2015.
As mentioned in part 2 of this series, Nordstrom expects its Canadian expansion to result in a loss before interest and tax of $60.0 million compared to $32.0 million in 2014. The company expects losses to come down in 2017 and earnings to be accretive with an increase in scale.
Nordstrom has been expanding into the Canadian market in quite a planned and phased manner. This is in contrast to Target (TGT), which expanded rapidly in the Canadian market and then ended up closing 133 stores in less than two years of entering the country. Leading off-price retailer TJX Companies (TJX) has done well in Canada with its off-price model. As of January 31, 2015, TJX Companies had 234 Winners stores, 96 HomeSense stores, and 38 Marshalls stores in Canada.
Nordstrom and TJX Companies together account for ~1.9% and 0.3% of the portfolio holdings of the SPDR S&P Retail ETF (XRT) and the iShares Core S&P 500 ETF (IVV), respectively.