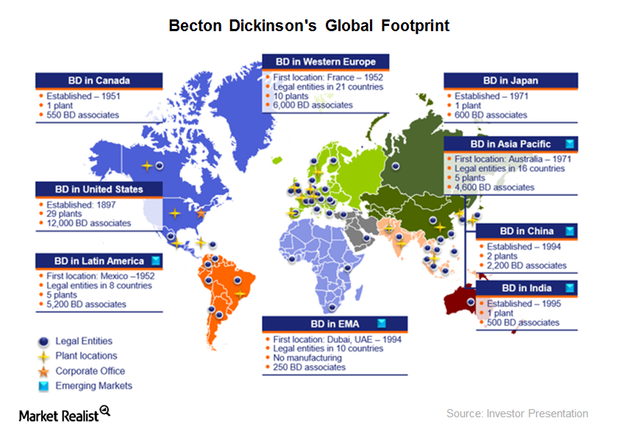 Analyzing Becton, Dickinson and Company's Geographic Strategy
Overview
Becton, Dickinson and Company (BDX), or BD, has operations across the globe, with more than 50% of its 2015 revenues coming from international markets. Emerging markets, which contribute to around 25% of the company's total revenues, witnessed a YoY (year-over-year) growth of approximately 9.2% in 2015.
The diagram above shows BD's global footprint and provides brief details about the scale and origin of the company's businesses around the world.
Article continues below advertisement
Article continues below advertisement
Domestic market
The United States is a stable growth market for BD. As shown in the above diagram, the percentage of revenues contributed by the United States has increased over the years, reaching around 50% of BD's total revenues in 2015. The increase in the US market share was driven by the acquisition of CareFusion, which has a major market in the United States.
International markets
BD's international revenues have grown substantially over the years, accounting for more than 50% of the company's total revenues in 2015. That year, CareFusion's sales contributed towards the growth of the company's international revenues. Major international sales drivers were emerging markets and sales of safety-engineered products. Emerging market revenues, which totaled around $2.2 million in 2015, accounted for approximately 21% of the company's total revenues. They accounted for 25% of revenues in fiscal 2014.
BD's international revenues are highly vulnerable to exchange rate fluctuations and the economic environment of the country in which operations are based. International sales were weaker in 2015 due to Japan's lower levels of research funding.
Some other major players in the US medical device industry with significant operations outside the United States include Medtronic (MDT), Abbott Laboratories (ABT), and Baxter (BAX). Investors can gain diversified exposure to such companies by investing in the Guggenheim S&P Equal Weight 500 Healthcare ETF (RYH). BD accounts for around 2% of RHY's total holdings.