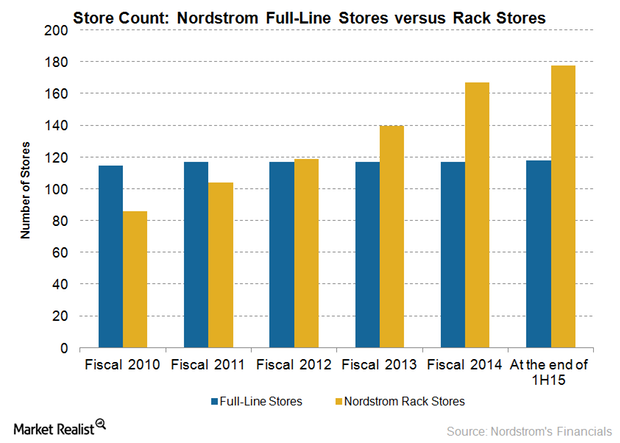 Will Nordstrom's Rack Stores Continue to Be a Key Growth Driver?
Off-price retailing
Upscale department store Nordstrom (JWN) has a presence in the off-price retail space through its Nordstrom Rack stores. These stores offer a wide merchandise assortment at a 30% to 70% discount on regular prices. In 2Q15, Nordstrom Rack sales grew 12.9%, marking the 26th consecutive quarter of double-digit growth.
Article continues below advertisement
Nordstrom's Rack stores in 2Q15
In 2Q15, Nordstrom Rack store sales increased by 12.9% to $857 million from the comparable quarter of the previous year. Top-performing merchandise categories in 2Q15 included shoes and specialized merchandise. However, Nordstrom Rack sales per square foot decreased 2.9% in 2Q15, mainly due to new store openings.
Rapid expansion
As indicated in the above graph, the number of Nordstrom Rack stores has grown rapidly compared to the full-line stores, and now Rack stores outnumber the company's full-line stores. As of the end of the first half of fiscal 2015 ended August 1, 2015, Nordstrom had 118 full-line stores including two full-line stores in Canada. This compares to 178 Nordstrom Rack stores.
The company is continuing its accelerated store growth plan, which includes the planned opening of 16 Rack stores in 3Q15. Nordstrom aims to end fiscal 2015 with 194 Rack stores. The company plans to grow to ~300 Rack stores by 2020. Nordstrom also plans to open Nordstrom Rack stores in Canada in the fall of 2017. Nordstrom makes up 0.1% of the portfolio holdings of the iShares Russell 1000 Growth ETF (IWF).
A key growth driver
According to the latest personal income and outlays report released by the Bureau of Economic Analysis on October 30, US consumer spending rose by 0.1% in September 2015 compared to the previous month. Consumers are still cautious about their expenditure on discretionary items. They continue to look for bargain deals from off-price retailers like TJX Companies (TJX), Ross Stores (ROST), as well as Nordstrom's Rack stores. These economic trends broaden the growth scope for Nordstrom's Rack stores. In September 2015, Macy's (M) marked its entry in the off-price space with the launch of three Macy's Backstage stores in New York.
For more information on TJX Companies and Ross Stores, read our series TJX Companies: A Tour of the Retail Powerhouse and Ross Stores: The Must-Know Growth Story of an Off-Price Retailer.