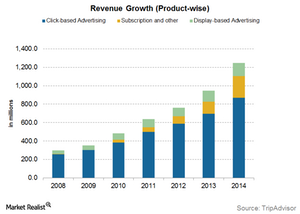 TripAdvisor's Revenue Streams: A Cost-per-Click Model
By Ally Schmidt

Updated
Snapshot
Since all the content provided on TripAdvisor's (TRIP) website is free and predominantly user-generated, the company shifted from earning on a per-query basis to a cost-per-click model, which made more sense. The per-query business model was B2B (business to business). TRIP would license its technology to other portals, like AOL (AOL), that would pay a per-query fee. In the cost-per-click model, partners pay TRIP for every shopper lead. The cost per click is determined by a competitive bidding process.
Article continues below advertisement
Click-based advertising
TRIP follows a meta-search business model with click-based revenues. This makes up a substantial portion of TripAdvisor's revenues, contributing to as much as 70% of its total revenue for 2014. Under this advertising model, the company collects a fee—the CPC (cost per click)—when a consumer clicks on a link that will take them to a client website. The company uses an auction system to price the CPC. This segment also includes revenue from the company's Instant Booking feature, which allows users to complete bookings on TripAdvisor's website without having to move to client websites.
Display advertising
Through display advertising, advertisers and hoteliers pay a fixed amount to TriAdvisor to advertise a site channel or a section on TRIP's websites. The ads can be banner ads or any other shape, and they can include information in text, logos, pictures, audio, and video. Display advertising accounted for 11% of TRIP's revenues in 2014. Most of TripAdvisor's display-based advertising clients are "direct suppliers in the hotel, airline and cruise categories, as well as OTAs." However, Trip also accepts display advertising from destination marketing organizations, casinos, resorts and attractions, and non-travel categories. These ads are generally sold on a CPM (cost per thousand impressions) basis.
Article continues below advertisement
Subscription and other revenues
Although the bulk of the company's revenues comes from advertising, the company also earns money through business listing subscriptions, transaction fees, and licensing. This is TripAdvisor's fastest-growing segment.
TripAdvisor earns transaction fees from booking services for hotels through Jetsetter and Tingo, vacation rentals, destination activities through Viator, and restaurants through Lafourchette.
Various hotels, restaurants, travel attractions, and rental agents pay a regular subscription fee to the company to display information about their services and direct contact details to reach a global community of more than 90 million marketable members.
TripAdvisor's "other revenue" refers to revenue derived from licensing content with third-party sites. Under the affiliate model, the company allows other sites to share its brand images and earn 50% of the gross revenue from the click per cost model when a user from the affiliate site clicks on a link that sends them to TripAdvisor.com.
TRIP makes up ~1.8% of the NASDAQ-100 Ex-Technology Sector Index (QQXT).