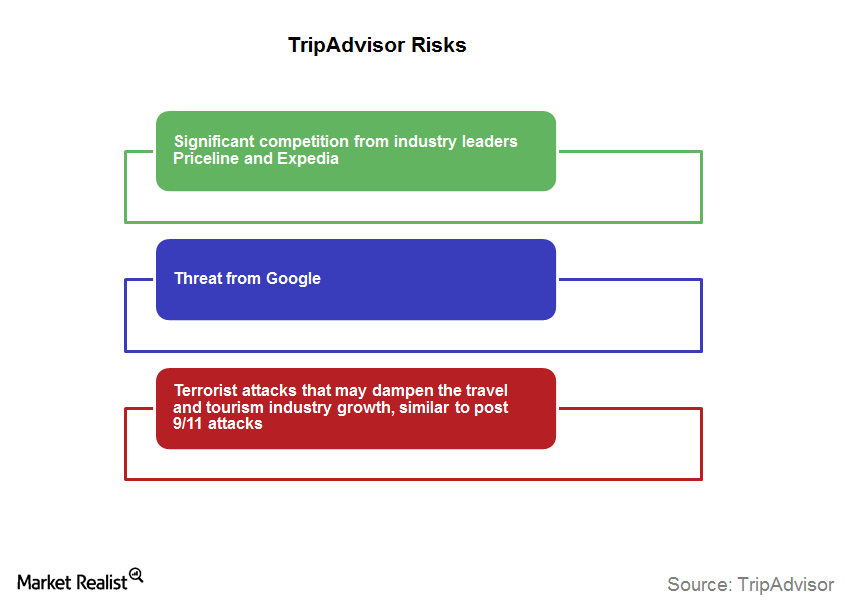 TripAdvisor's Future: Key Risks that the Company Could Face
Competition
Online travel industry leaders like Priceline (PCLN) and Expedia (EXPE) have a mixed relationship. They're partners as well as competitors. Both players receive plenty of traffic from TripAdvisor (TRIP), earning TRIP referral revenues.
TRIP has recently forayed into bookings, which had been the forte of PCLN and EXPE until now. TRIP is seen as an alternative to these players. It has become a pseudo-OTA. It doesn't need to become a merchant of record or handle customer services since its partners will. As such, TRIP is sure to face significant competition from the industry leaders.
Article continues below advertisement
Threat from Google
Apart from competition, one of the most important risks that TripAdvisor faces is from Google (GOOGL). TripAdvisor heavily depends on Google for traffic. The company mainly derives its traffic from Google search users by banking on its SEO tactics and algorithms, which help keep it on top of all travel-related search results. It's this traffic that the company then banks upon for its revenues. So Google's algorithm changes can easily affect TripAdvisor's revenues.
Also, the search engine giant has moved in to the travel space with the launch of Google Flights, making it a direct rival for TripAdvisor. Google has also started rewarding reviewers of restaurants and local businesses with free drive space on Google Drive, showing its interest in the growing restaurant reservation business. It also expanded its Local Guides feature in Google Maps, which will help people connect better and offer recommendations and reviews of local restaurants and attractions.
Terrorist attacks
The terrorist attacks in Paris two weeks ago triggered a dangerous tension, with countries like Russia, France, and the United States fighting against Islamic State groups in the Middle East. This conflict could damage the tourism industries in the affected countries, as travelers would hesitate to traveling for some time. This could hurt TripAdvisor also, since European countries have been key growth drivers for travel companies.
TripAdvisor accounts for ~1.4% of the holdings in the S&P Equal Weight Consumer Discretionary ETF (RCD). For more details of the terrorist attacks on OTAs, see Is the Travel Industry at Risk after the Terror Attack in Paris?