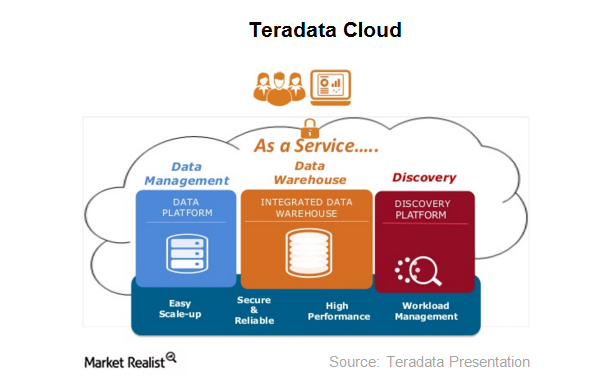 Teradata Struggles as Cloud Adoption Increases
Teradata announces exit from marketing app space
On November 4, 2015, Teradata (TDC) announced its fiscal 3Q15 results. The company reported revenues and non-GAAP (generally accepted accounting principles) EPS (earnings per share) of $606 million and $0.55, respectively. The company's revenues fell short of analysts' expectations by $32.4 million, while its EPS of $0.55 was in line with consensus estimates.
In fiscal 3Q15, Teradata's revenue of $557 million fell 9% on a year-over-year basis. In constant currency terms, this decline was 4%, indicating that a strong dollar (UUP) contributed to the fall in revenues.
Article continues below advertisement
Teradata's primary business, data and analytics, is going through tough times
Teradata primarily generates its revenues from data and analytics and marketing applications. In 3Q15, data and analytics contributed approximately 92% toward overall revenues. Marketing applications contributed the rest.
Teradata's core business is struggling, as data warehouses are increasingly moving toward the cloud. The SMAC (social, mobile, analytics, and cloud) revolution has urged legacy players such as IBM (IBM), Oracle (ORCL), and Microsoft (MSFT) to invest billions in this space and tailor their products to suit the changing IT landscape.
Teradata announced exit from marketing applications business
Primarily to focus on the data and analytics space, Teradata made a significant announcement that it plans to exit its marketing application business so it can "allow the company to focus exclusively on improving and growing its Data and Analytics business." Teradata said that the sale of marketing applications is expected to boost its operating income by ~$120 million in 2016.
In its 3Q15 earnings guidance, the company stated that it expects 2015 revenue to fall 6%–8% on a year-over-year basis. Earlier, the company expected only a 3%–6% fall in revenues. It also reduced its EPS guidance to $2.00–$2.20 per share from the previous $2.20–$2.50 per share. Analysts' expectations were a fall of 5.4% in revenues and EPS of $2.22.