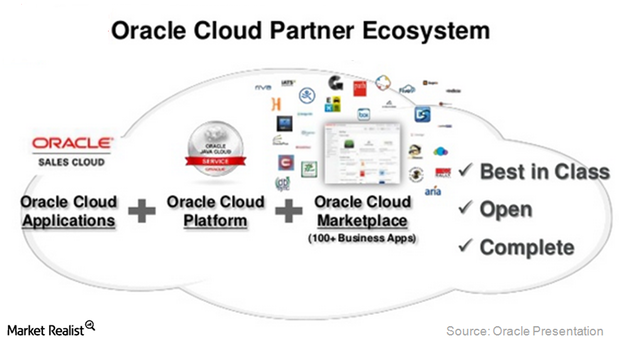 Oracle caters to SMAC requirements with expanded cloud portfolio
Oracle Cloud platform
Oracle (ORCL) Cloud Platform includes its Database, Java, and Oracle Fusion Middleware, featuring built-in multitenancy, in-memory analytics, mobile, and social capabilities. This platform provides a reliable way for customers and independent source vendors (or ISVs) to migrate to the cloud while satisfying various SMAC (social, mobile, analytics, and cloud) requirements.
Cloud Platform allows Oracle's partners and customers to extend SaaS applications and migration of existing on-premises applications to the cloud. It provides a broad portfolio of public cloud services across SaaS, PaaS, Data as a service (or DaaS), and Infrastructure as a service (or IaaS). It also provides a vast portfolio of integrated services that span data, applications, platform, and infrastructure areas.
Article continues below advertisement
Article continues below advertisement
Results and benefits
Oracle's positive results are expected to benefit ETFs, including the PowerShares QQQ Trust (QQQ) and the Technology Select Sector SPDR Fund (XLK), that have significant exposure to Oracle.
According to IT Candor, Amazon (AMZN) leads the IaaS space with 10% market share, while Salesforce.com (CRM) dominates the PaaS and SaaS space.
Diverse cloud offerings, increased adoption
Oracle's Messaging Cloud is designed to make communication between software components easy and reliable. Its Business Intelligence Cloud enables users to make visual data dashboards for web browsers and mobile devices. The chart shows the Oracle cloud partner ecosystem, which has more than 100 business applications. Its developer cloud gives developers a hosted development platform with application lifecycle management.
The company claims that Oracle Cloud supports 62 million users and 23 billion transactions each day. It runs on 30,000 devices and 400 petabytes of storage in 19 data centers all across the world.
Oracle Cloud platform expansion
During its OpenWorld 2014 conference in San Francisco, Oracle announced that its cloud platform will encompass everything from big data to mobile apps for developers. Oracle's expanded cloud platform includes new functionality for big data analytics, integration, process management, Java Platform Standard Edition, and Node.js for server-side JavaScript.