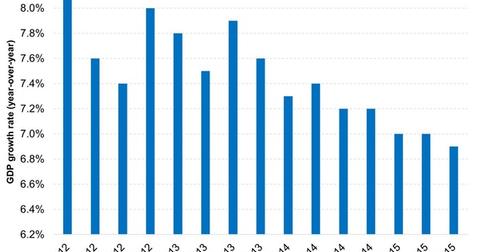 What's the Meaning of China's Slowing Growth?
By Hugh Young

Updated
The so-called "normalization" of Fed policy may be a good thing because it points to economic strength in the US and weans markets off speculative capital, but the prospect of a rate hike could accelerate fund outflows from Asia in the near-term. A slowing China hurts the whole world, even though Beijing should have the resources to cushion the economy from a so-called "hard landing," as well as safely deflate any asset bubbles.
Article continues below advertisement
Given these uncertainties, investors would do well to go back to basics with these simple guidelines: embrace businesses that are easy to understand; look for companies with broad regional exposure, established franchises and solid finances; seek out firms that respect minority shareholders. Then when all the boxes are ticked, don't overpay.
These are tried-and-tested strategies that the managers of our Asian funds have employed for more than two decades to deliver potential risk-adjusted returns through repeated cycles of boom-and-bust. They may prove useful when seeking an anchor in turbulent times.
Market Realist – The slowing growth in China could dampen global growth further.
China's (GCH) GDP (gross domestic product) grew at 6.9% year-over-year for the third quarter ended September 30, 2015. But the growth rate was down from the 7.0% reported in the previous quarter. While this is still one of the highest growth rates within major economies, it's a far cry from the double-digit growth China has seen.
China's manufacturing sector has been shrinking over the last seven months, which is a cause for concern. More evidence of softening growth in China has led to a slump in commodity (DBC) prices in the last few months, as China is a massive market for commodities. This has caused a recession in commodity-driven markets like Brazil (LAQ) and Russia (RSX). Also, many major economies like Japan (JEQ) that depend on China (FXI) for exports are negatively affected by the slowdown in China. Having said that, we're seeing a rise in Chinese consumer sentiment, as we alluded to before.
Read Don't Feed the Bears: Global Growth and Asian Markets for more on the Chinese economy.