SanDisk is a leader in flash memory
SanDisk (SNDK) is a manufacturer of NAND (negative-AND) flash memory data storage solutions. Its offerings include solid state drives, embedded products, USB drives, removable cards, thumb drives, digital media players, and more. These products are ubiquitous and can be found in mobile phones, personal computers, tablets, digital cameras, gaming devices, and even automobiles. Most of their products are created by joining flash memory with firmware and a controller.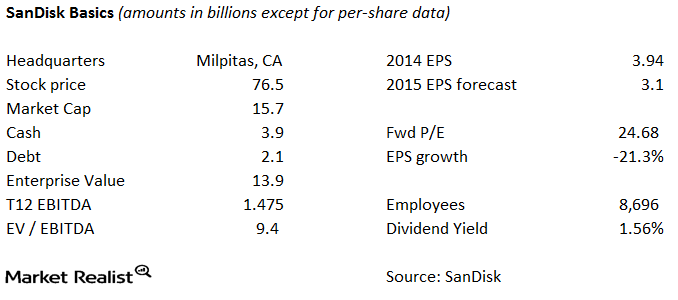 Article continues below advertisement
SanDisk products
SanDisk's products include the following:
removable cards – Removable cards are used primarily in digital cameras and camcorders. Most people would recognize these as SD (Secure Digital) and Micro SD cards that you might find in smartphones, tablets, or e-readers.
embedded products – Embedded products are used in similar applications as removable cards, specifically phones, tablets, notebook computers, and other electronic equipment.
client solid state drives – Solid-state drives (or SSDs) are used in desktop and notebook computers, tablets, and other computing devices.
enterprise solid-state drives – Enterprise solid-state drives are more high-capacity than enterprise-level storage devices. SanDisk also provides enterprise software to optimize the performance of its data storage solutions.
USB flash drives – USB flash drives range from small thumb drives marketed to consumers to professional secure solutions designed to protect data.
digital media players and wireless drives – SanDisk has its own line of digital media players and wireless media and flash drive products.
wafers and components – SanDisk sells memory wafers to customers to use in their own branded products.
Apple (AAPL) is SanDisk's biggest customer and accounted for 19% of revenues in fiscal 2014. Diversifying revenue streams and achieving scale is a big driver of the SanDisk–Western Digital merger. Western Digital (WDC) offers similar products, and the combination will help the companies negotiate better with their customers.
Merger arbitrage resources
Other important merger spreads include the deal between Baker Hughes (BHI) and Halliburton (HAL) and the merger between Freescale Semiconductor (FSL) and NXP Semiconductor (NXPI). For a primer on risk arbitrage investing, read Merger arbitrage must-knows: A key guide for investors.
Investors who are interested in trading in the tech sector should look at the Technology Select Sector SPDR ETF (XLK).