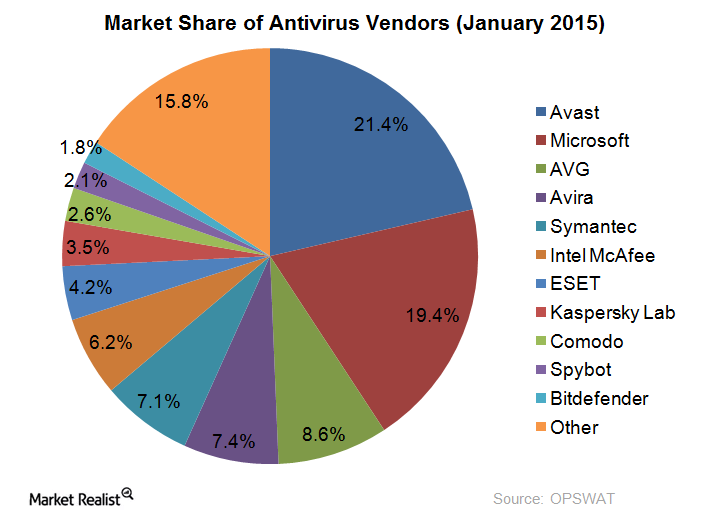 Norton Antivirus Continues to Be an Integral Part of Symantec
By Anne Shields

Nov. 23 2015, Updated 9:08 a.m. ET
Consumer Security segment up 55% toward 2Q16 operating margins
Previously in this series, we discussed Symantec's (SYMC) Consumer Security business performance in fiscal 2Q16. Sluggishness in the PC market continues to impact this segment's performance.
Since fiscal 2012, this segment has failed to garner any growth. In fiscal 2Q16, this segment contributed ~28% toward the company's overall revenue, and its contribution toward operating margins rose to 55%. It is apparent that the lack of growth in this segment could impact not only the company's revenues but also its margins.
Article continues below advertisement
Antivirus software should grow in Latin America and Asia–Pacific
Symantec expects its Norton Security Suite revenues to fall by 5%–8% in fiscal 2016. However, in late September 2015, the company launched Norton Security Service for Microsoft (MSFT) Windows, OS X, Apple (AAPL) iOS, and Google (GOOG) (GOOGL) Android. Symantec has upgraded its Norton offerings to include detect-and-respond capabilities as well as cloud support designed to deal with increased cyber threats.
In 2014, Brian Dye, senior vice president at Symantec, declared antivirus "is dead." However, with the addition of new features in its Norton Security Suite in September 2015, Symantec has showed that it has no intention of discontinuing Norton Antivirus.
According to research firm Technavio, the antivirus software market in Latin America (ILF) and Asia–Pacific (FAX) is expected to grow at a CAGR (compound annual growth rate) of 7.8% and 11.6% from 2014–2019, respectively.
Although these geographies account for a relatively small proportion of the global market, they are rapidly growing. Antivirus software is expected to grow in these regions, which augurs well for Symantec's Norton antivirus suite.