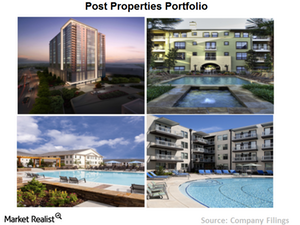 A Must-Read Company Overview of Post Properties
Brief history of Post Properties
Headquartered in Atlanta, Georgia, Post Properties (PPS) was founded in 1971 by John A. Williams and Douglas Bates. The company is structured as an REIT (real estate investment trust) and completed its initial public offering in 1993.
In 1997, Post Properties merged with Dallas-based Columbus Realty Trust to become one of the largest publicly traded multifamily companies in the United States. The company is a part of the S&P 600 index.
Article continues below advertisement
Post Properties' business interest
Post Properties began its real estate foray mainly by venturing into the development and management of landscaped apartment communities. After 1980, the company added urban centers and mixed-use properties into its portfolio. The mix-use properties of the company are made up of residential units, retail space, and office space. Post Properties is now engaged in the ownership, development, and management of multifamily apartment communities across the United States.
Post Properties is now a fully integrated, self-administrated, and self-managed REIT with an expertise largely in multifamily development, operations, and asset management. As of the end of fiscal 2014, the company had interests in 22,994 apartment units in 58 communities across the US.
Post Properties' industry competitors
Post Properties is the tenth-largest apartment REIT company in the US, with a market capitalization of $3.2 billion. The company competes with a number of other apartment REITs and rental property companies in the US.
Post Properties' competition also comes from other forms of rental properties and single-family housing that provide housing alternatives to potential residents of multifamily properties. In this sense, apartment REITs also have to compete for the residents' decision of owning a home or renting an apartment. When home prices are high, renting becomes more attractive, and vice versa.
Major competitors of Post Properties in the apartment REIT space include the following:
The iShares US Real Estate ETF (IYR) invests 0.39% of its portfolio in Post Properties.
Series content
A Must-Read Company Overview of Post Properties
A Key Segmental Breakdown of Post Properties
Assessing Post Properties' Apartments Portfolio in 2015
Evaluating Post Properties' Less-than-Aggressive Property Development Strategy
Why Property Acquisitions and Dispositions Are Important to Post Properties
How Post Properties Plans to Create Value Through Strategic Initiatives
Why Post Properties' Occupancy Level Has Remained High
Assessing Post Properties' Moderate Revenue Growth
Comparing Post Properties' EBITDA Margin with Industry Average
Examining Post Properties' Consistent Growth in Net Operating Income
Gauging Post Properties' FFO Payout Ratio versus Peers
Comparing Post Properties' Leverage with Industry Average
Assessing Post Properties' Average Price-to-FFO Multiple
What Post Properties' Higher-than-Average EV-to-EBITDA Multiple Could Mean for Investors?
Investing in Post Properties through ETFs
Continue to the next part of this series for a look at Post Properties' segments.