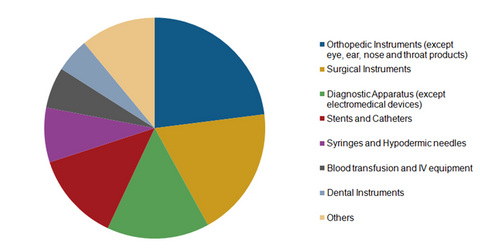 How Is the Medical Device Industry Segmented?
By Sarah Collins

Updated
Segmentation
The US medical devices industry can be categorized according to the field of medicine in which a device is used. The Food and Drug Administration (or FDA) also categorizes 1,700 specific types of devices into 17 medical specialty panels.
Article continues below advertisement
Orthopedic instruments
The orthopedic segment comprises of devices and instruments used in the diagnosis and treatment of bone injuries. Some of the instruments used in orthopedic treatments and surgeries are suture anchors, staples, bone holding retractors, and bone gauges. The orthopedic instruments segment is the largest segment in the medical device industry, and it is dominated by companies such as Johnson & Johnson (JNJ) and Stryker (SYK).
Surgical instruments
Surgical instruments are devices or tools used for performing specific procedures during surgery that involve functions such as clamping, probing, dissecting, dilating, and suctioning. Some of the surgical devices are dissecting instruments like scalpels, grasping instruments like clamps and forceps, and retractors used for operative area visualization. Johnson & Johnson is a key player in the surgical instruments segment.
Article continues below advertisement
Diagnostic apparatuses
Diagnostic apparatuses include devices used for analysis and detection of a medical condition or disease. These involve medical imaging machines such as magnetic resonance imaging (or MRI), ultrasound machines, stethoscopes, and electrocardiograms (or ECG). Abbott Laboratories (ABT) dominate the diagnostic apparatus segment.
Stents and catheters
Stents and catheters are small tubes that are placed inside a duct or a blood vessel to broaden arteries or treat narrowed passageways. These devices are widely used for the treatment of heart diseases.
Article continues below advertisement
Syringes and hypodermic needles
The syringes and needles category comprises of disposable syringes, insulin pumps, and specialty needles. Becton Dickinson (BDX) is one of the major players in the hypodermic needles device segment.
Blood transfusion and intravenous equipment
A blood transfusion is the process of injecting blood into the blood vessels intravenously to treat various medical conditions caused due to blood loss or loss of particular components of the blood.
Investors seeking exposure to major players in the US medical device market can invest in the iShares US Medical Devices ETF (IHI).