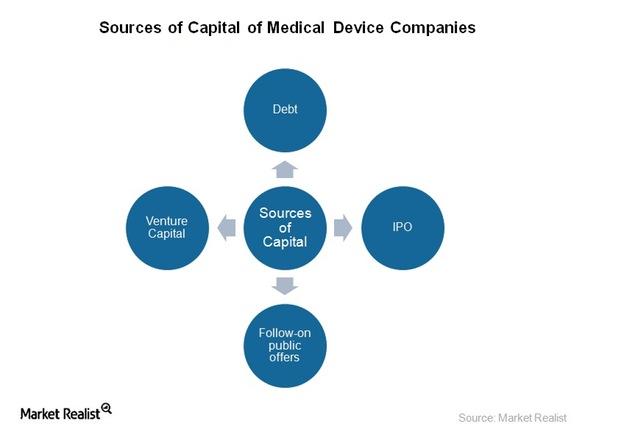 What Are the Major Sources of Capital for Medical Device Companies?
Sources of capital
The US medical device industry consists of many small players backed by venture capital funding and a few big players that raise capital predominantly through public offerings and debt issuances. According to the EY Lifesciences 2015 report, US medical device companies raised approximately $47 billion in 2015, which is almost double the capital raised in 2014.
Article continues below advertisement
Article continues below advertisement
Venture capital funding
The innovation ecosystem in the medical device industry is driven by early-stage, venture-capital-backed companies. Thus, venture capital is one of the major sources of capital for the US medical device industry. Over the years, a disruptive industry landscape and a shift to value-based healthcare have led to a reduction in the interest of venture investors due to entailing risks and uncertainties. Venture financing deals decreased from 449 deals in 2014 to 409 deals in 2015, according to EY Lifesciences' 2015 report, which is a significant decline from the six-year average of 438 financing deals from 2009 to 2015.
In recent years, consolidation and merger and acquisition (or M&A) activities in the medical device industry have resulted in a shift in venture investors' interest from emerging small players to big companies.
Debt financing
Debt financing constitutes the largest portion of funding for the medical device industry and is a cheap source of funding for large players in the medical device industry. Debt financing needs can be driven by investment in research and development (or R&D) and innovation, supply chain, or emerging value-creation strategies such as M&As. In 2015, the largest debt offering of $17 billion was raised by Medtronic (MDT) for the acquisition of Covidien. Some other big acquisitions by Becton Dickinson (BDX), Zimmer (ZBH), and Boston Scientific (BSX) were funded by raising debt.
Public offers
Public offer is a source of capital financing mainly for larger players. Most of the medical device companies in the US are private players backed by venture capital while only a small number of companies have product portfolios attractive enough for public investors and can thus raise capital through initial public offerings (or IPOs).
One of the major ETFs with exposure to new emerging companies as well as established players in the US medical device industry is the SPDR S&P Health Care Equipment ETF (or XHE). Another major ETF in the same segment is the iShares U.S. Medical Devices ETF (IHI).