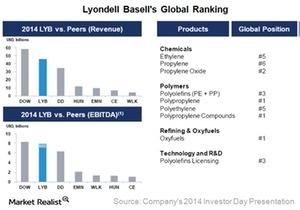 What Are LyondellBasell's Global Rankings?
Major producers of ethylene and propylene
LyondellBasell (LYB) is the world's leading producer of olefins and polyolefins. LYB has built its strong capacity base in major olefins (ethylene and propylene) and polyolefins (polypropylene and polyethylene) over the last three decades. LYB is one of the largest producers of ethylene and propylene, which are key feedstocks for chemical products. Other major producers are ExxonMobil (XOM), Formosa Plastics, Chevron Phillips (CVX), Sinopec (SHI), Dow Chemical (DOW), and BASF (BASF).
Article continues below advertisement
Article continues below advertisement
LYB's global rankings in terms of major chemicals
Ethylene is used as a feedstock to produce major chemicals such as polyethylene, ethylene oxide, ethanol, styrene, and vinyl acetate monomer. Propylene is a key raw material for the production of polypropylene, acrylonitrile, propylene oxide, and other chemical products. LYB has a total annual capacity of 17.2 billion pounds of ethylene and 11.5 billion pounds of propylene.
LYB is the world's fifth largest and North America's second largest producer of ethylene.
LYB is the world's sixth largest producer of propylene.
LYB is the world's largest producer of polypropylene, polypropylene compound, and oxyfuels.
LYB is the world's third largest producer of polyolefins.
LYB is North America's third largest producer of polyethylene.
Revenue and EBITDA comparison
In terms of total revenue and EBITDA (earnings before interest, tax, depreciation, and amortization), LYB is the US's second largest chemical producer. The company has total revenue of $46 billion and EBITDA of $7 billion. Dow Chemical is the largest chemical player with total revenue of $58 billion. Other major chemical players are DuPont (DD), Eastman Chemical (EMN), Huntsman (HUN), Celanese (CE), and Westlake Chemical (WLK). Revenues for DD, EMN, HUN, CE, and WLK are $35 billion, $10 billion, $12 billion, $7 billion, and $4 billion, respectively.
Investors can invest in these chemical companies by investing in chemical ETFs. The iShares U.S. Basic Materials ETF (IYM) is a chemical ETF and invests in the US-based basic material companies including chemical companies. DD has the largest holding of 11.1% in IYM's total holdings.
In the next few articles, we'll discuss the company's business segments in detail.