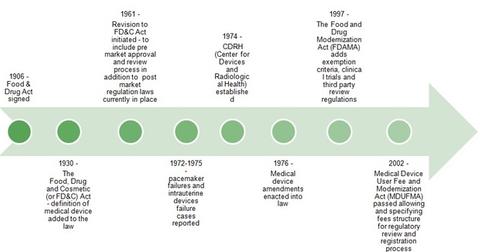 Key Regulations that Affect Medical Device Companies
By Sarah Collins

Updated
The history of US medical device regulations
The US Food and Drug Administration's Center for Devices for Radiological Health (or USFDA/CDRH) regulates the medical device industry in the United States.
In 1961, the FDA gained authority to regulate clinical trials and related methodologies. Until the early 1960s, no premarket approval or review processes existed. In 1976, some important regulations related to risk-based device classifications, general and special controls, premarket notification, and premarket approval processes were established. The Safe Medical Devices Act (or SMDA) was also passed, which required healthcare facilities to report faulty medical devices to the FDA.
Article continues below advertisement
Premarket notification
Premarket notification is a marketing clearance process wherein a device manufacturer must notify the FDA of its intent to introduce a new device in the US market at least 90 days in advance. The new device to be introduced can be a device to be marketed for the first time or a device with significant changes to the existing product that could have a possible impact on safety and efficiency.
The premarket notification process is designed to review the device for substantial equivalence (or SE) against a device legally marketed in the US. The new device must be at least as safe and efficient as the predicate device. The predicate device may be a pre-1976 legally marketed device or a device marketed post-1976 having clearance.
Premarket approval
Premarket approval (or PMA) is a marketing approval process required for new innovative devices that don't have any substantially equivalent predicate devices currently legally marketed in the US.
The PMA process is required for devices with high risk and is a more evolved process that requires reasonable assurance regarding the safety and efficiency of the product substantiated with suitable scientific proof including clinical tests and studies. The FDA is required to review and approve or disapprove the device within 180 days.
A number of devices cleared through the approval process are currently the subject of litigation. These devices include metal-on-metal hip implants manufactured by Wright Medical (WMGI) and Zimmer Biomet (ZBH) and transvaginal mesh manufactured by Johnson & Johnson (JNJ), CR Bard (BCR), and Boston Scientific.
The iShares US Medical Devices ETF (IHI) is a well-diversified fund with exposure to varied medical device manufacturers. It was established in 2006 and has assets under management of $703 million as of October 30, 2015.