How Does the FDA Classify Medical Devices?
Medical devices are classified as per the level of control required by the Food, Drug, and Cosmetic Act (or FD&C Act).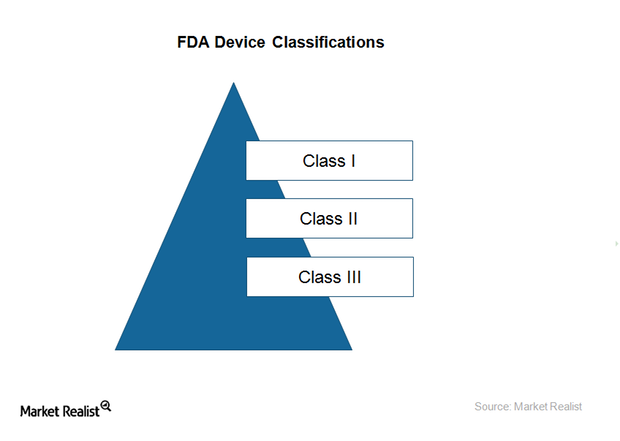 Medical device classification
Medical device companies catering to the US market must abide by the regulatory controls as specified by the US Food and Drug Administration's Center for Devices for Radiological Health (or FDA's CDRH). The organization establishes control measures by considering the potential risk levels of a medical device. Medical devices are classified as per the level of control required by the Food, Drug, and Cosmetic Act (or FD&C Act).
Article continues below advertisement
Article continues below advertisement
Class I: General controls
Class I devices fall in the minimum risk potential category, and thus the devices are regulated and controlled to the minimal possible extent. Class I device manufacturers are subjected to the following control requirements:
registering device manufacturing facilities
providing a list of marketed devices regularly to US Food and Drug Administration (or FDA)
complying with Good Manufacturing Practices (or GMP)
maintaining records of any device malfunctions and resulting injuries caused
reporting any device removal or corrections
submitting a premarket notification to the FDA before marketing a product, unless the company has exemptions
The FDA has the authority to ban or limit the use of certain devices that violate the medical device amendments and provisions in the FD&C Act or present an unreasonable risk of injury.
Some examples of Class I devices are elastic bandages, examination gloves, stethoscopes, and battery-powered ophthalmic electrolysis units.
Class II: Special controls
In addition to submitting a premarket notification, Class II devices must comply with the established performance standards to ensure safety and efficacy. Most of the regulatory requirements are related to the following:
construction or composition of the device
device testing
labeling requirements to ensure proper installation, use, and maintenance
post-market surveillance
Some examples of Class II devices are powered wheelchairs, infusion pumps, blood pressure monitors, and electrocardiographs.
Article continues below advertisement
Class III: Premarket approval
Medical devices that are life-sustaining, prevent impairment of health, present an unreasonable risk of injury or illness, and where general controls and performance standards are insufficient to ensure device safety and efficiency are classified as Class III devices.
In addition to complying with the control requirements as applicable to Class I and Class II devices, Class III devices must obtain premarket approval before marketing the product. Some devices that establish substantial equivalence to pre-1976 legally marketed devices are not required to obtain premarket approval (or PMA) and can be marketed through the premarket notification process until the FDA publishes a PMA requirement for such devices.
Some examples of Class III devices are implantable cardiac pacemakers, silicone gel-filled breast implants, and replacement heart valves. Medtronic (MDT) is the biggest manufacturer of pacemakers in the United States. One of the other big pacemaker manufacturers in the US is Boston Scientific (BSX).
Exemptions
In 1997, the Food & Drug Modernization Act (or FDAMA) added exemption criteria for most Class I and some Class II devices. These devices are not subjected to the premarket notification requirement.
Among the total number of devices subjected to classifications as described above, 47% of the devices are exempted. 92% of these devices fall under Class I and 8% under Class II categories.
The iShares U.S. Medical Devices ETF (IHI) is an ETF with exposure to manufacturers of all kinds of medical devices such as Medtronic, Abbott Laboratories (ABT), and Thermo Fisher Scientific (TMO) with 12.9%, 9.8%, and 7.9% allocation, respectively.