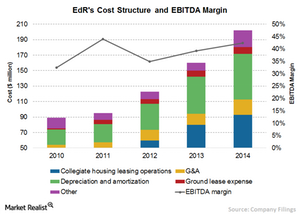 EdR's EBITDA Margin Is Lower than Industry Average
By Peter Barnes

Dec. 1 2015, Updated 12:06 p.m. ET
Cost structure
EdR's (EDR) total cost was $201.9 million for fiscal 2014, up by 26.1% over 2013. The increase came on the back of a 30.2% rise in total cost in 2013 and 29.2% in 2012. The collegiate housing leasing operations expenses comprised 45.9% of the total cost followed by depreciation and amortization expenses at 29.2%, and G&A (general and administrative) expenses at 9.8%.
The collegiate housing leasing operations expenses rose by 15.9% in 2014 to $92.6 million over 2013. The same-community operating expenses increased by 2.6% in 2014 over 2013. The increase in same-community operating expenses was primarily due to the higher marketing costs and real estate taxes.
Article continues below advertisement
Depreciation expenses
Depreciation expenses increased by 22.6% to $59 million in 2014 compared to a rise of 44.7% in 2013 to $48.1 million. The increase in depreciation expenses was primarily due to the acquisitions and development of 18 new properties in 2014.
G&A expenses
G&A expenses, excluding development and management expenses, increased by 31.8% in 2014 to $10.1 million. The rise in G&A expenses in 2014 was primarily due to a rise in salary expenses and other factors. The company stated that "the higher rate of G&A growth in 2014 was necessary to handle the significant growth in our portfolio and also reflects growth in costs related to the pursuit of the increasing number of development opportunities, both on and off campus."
Lowest EBITDA margin
EdR recorded an EBITDA margin of 42.4% in 2014 compared to 39.3% in 2013 and 35% in 2012. The EBITDA margin recorded by the company is one of the lowest in the industry. The industry average EBITDA margin was 57.7% in 2014.
Equity Residential (EQR) reported the highest EBITDA margin of 64.4% followed by AvalonBay Communities (AVB) at 63.6%, Essex Property Trust (ESS) at 58%, and American Campus Communities (ACC) at 48.4%. The SPDR DJ Wilshire Global Real Estate ETF (RWO) invests 0.20% of its portfolio in Education Realty Trust.
In the next article, we'll discuss EdR's funds from operations.