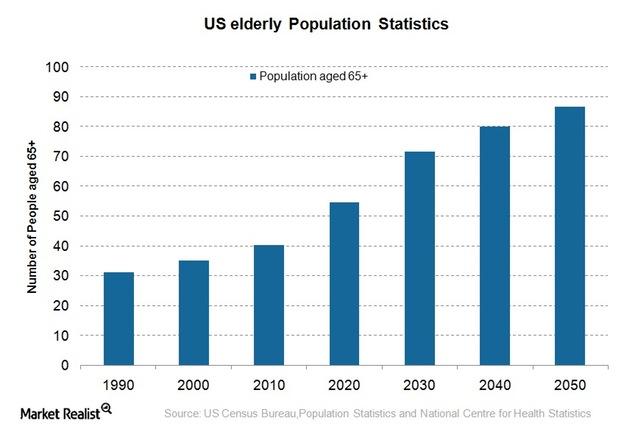 How Economic and Demographic Factors Affect Medical Device Industry
By Sarah Collins

Dec. 7 2015, Updated 6:04 a.m. ET
Demographics
In the United States, the population over the age of 65 has increased by 18% from 2000 to 2011. Also, with the technological advancements and improvement in healthcare, there has been a steady increase in life expectancy rates over the years.
The aging world population along with an increase in life expectancy substantiates a sustained long-term demand and need for medical devices. Additionally, healthcare services for the elderly are government-subsidized. Thus, the age profile of the population determines the payer profile for the medical device sector, which in turn impacts the business margins. The increasing elderly population has led to higher demand for orthopedic and surgical instruments.
Article continues below advertisement
Major companies that manufacture devices catering to orthopedic and surgical segments are Johnson & Johnson (JNJ) and Stryker (SYK). Other companies manufacturing these segments of devices include NuVasive (NUVA), Zimmer Biomet (ZBH), and Medtronic. One of the ETFs with exposure to major players as well as small companies that manufacture orthopedic and surgical devices is the SPDR S&P Health Care Equipment ETF (XHE). Another major ETF with exposure to the US medical device industry is the iShares US Medical Devices ETF (IHI).
Economic environment
The state of an economy determines the expenditure potential and the willingness of consumers, which thus regulates demand. Though the medical device sector displays significant resilience towards changes in the economic environment due to the indispensable nature of healthcare services, economic factors do impact short-term demand substantially.
The 2009 economic crisis led to the weakening of the global economy. With rising unemployment, healthcare services utilization rates dropped, leading to a decrease in demand for medical devices. Also, exports declined due to the weakening global demand.
With the strengthening of the US economy, the US medical device sector witnessed a gradual revival in demand. Other factors such as the strength of the US dollar also impact the profit margins of medical device companies that have significant exposure to international markets.