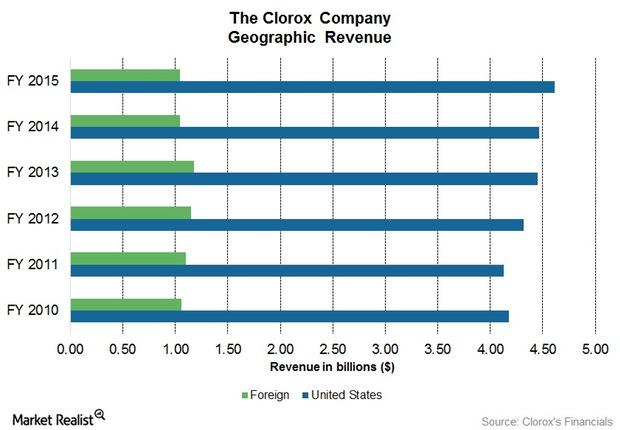 Clorox Is Eyeing Growth Opportunities in the International Market
By Penny Morgan

Dec. 4 2015, Updated 10:06 a.m. ET
Geographic overview
Clorox (CLX) manufactures products in more than a dozen countries and markets them in more than 100 countries. About 18.5% of the company's sales were generated in international markets, including ~4% sales in Argentina in fiscal 2015. About 81.5% of its sales came from the United States in fiscal 2015.
Clorox's international sales declined in fiscal 2015 due to an unfavorable foreign currency impact. Peers such as Procter & Gamble (PG) and Colgate-Palmolive (CL) derive ~63% and ~77% of their revenues, respectively, from outside the United States. As a result, a stronger US dollar continues to impact P&G's and Colgate's revenues and earnings. Church & Dwight (CHD) also has a presence in the international market.
Article continues below advertisement
Argentina and Venezuela impacts
Clorox continues to face substantial economic and political instability in Argentina, where the devaluation of the Argentine peso and high inflation have negatively affected the company's net sales and net earnings. Apart from price controls and related government actions, Clorox also has restrictions on costs related to the repatriation of foreign profits to the United States in Argentina. Recently, Clorox discontinued its Venezuela operations due to strong currency devaluations, inflation, and the price freeze.
Clorox plans to expand its international business, as it's a key component of its product portfolio, contributing 19.2% of total net sales. Clorox aims to achieve international sales growth of 5%–7% annually.
Mid-sized countries and hedge instruments
Clorox (CLX) aims to drive growth through innovation, expansion into new product categories, investment in its established brands and enhanced merchandising, and its ability to capture retail (XRT) market share from competitors in mid-sized international countries.
Clorox also uses instruments to hedge certain foreign currency risks. These hedges offset only a small portion of the company's exposure to foreign currency fluctuations.
Clorox (CLX) has exposure in the iShares S&P 500 Value ETF (IVE) with 0.1%[1. updated as of November 19, 2015] of the total weight of the portfolio.