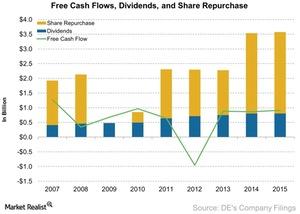 Analyzing Deere's Free Cash Flow Growth and Cash Management
Dividends and share repurchase
In 4Q15, Deere & Company (DE) paid cash dividends of $198 million, or $0.6 per share. This translated into a dividend payout ratio of 55.2%. In other words, the company distributed more than half of what it earned in 4Q15. The company also repurchased shares worth $2.7 billion during the quarter. Dividends and share repurchases are distributed from a company's free cash flows. Therefore, it is important to also look at the health of free cash flows.
Article continues below advertisement
Free cash flows
One of the ways to calculate free cash flows is by deducting capital expenditures from the company's operating cash flows. The company can use the remaining cash to pay dividends, repurchase shares, pay off debt, or retain it on the balance sheet for later reinvestment in the business.
In 4Q15, Deere's free cash flows fell 17% to $1.5 billion from $1.8 billion in 4Q14. However, in the full year, free cash flows rose to $914 million, or 5% growth, from $866 million in 2014. The company had negative free cash flows in the first two quarters of 2015.
Currently, Deere & Company (DE) along with Toro Company (TTC), AGCO (AGCO), and Caterpillar (CAT) form about 5% of the First Trust Industrials/Producer Durables AlphaDEX Fund (FXR).
Outlook
For the full year 2015, the dividend payout ratio was 41.2%. However, the company plans to maintain a 25% to 35% payout ratio. Share repurchase is an alternative to dividends, which the management stated was its "preferred method of deploying excess cash."