Analyzing the Competitive Landscape of the Medical Device Industry
The medical device industry in the US consists of a few big players and a large number of small and medium enterprises.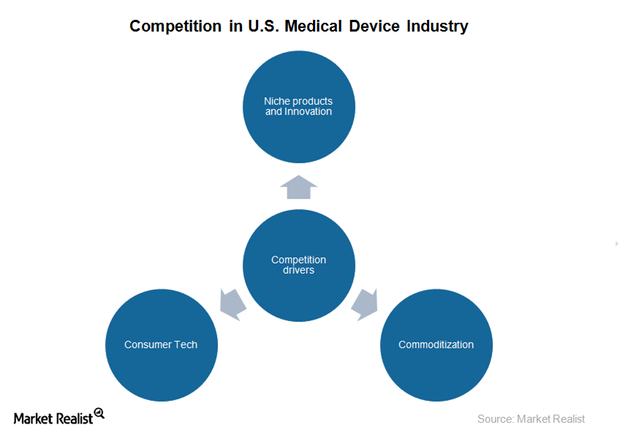 Overview
The medical device industry in the US consists of a few big players and a large number of small and medium enterprises (or SMEs). As per the US Census Bureau, 80% of medical device companies employ less than 50 employees. Such an industry profile makes it a highly competitive sector across product lines and market segments.
Article continues below advertisement
Article continues below advertisement
Niche products and innovation
Small companies in the industry thrive on specialization and innovation. With shorter product lifecycles driven by ever-evolving advanced technologies and materials, it is essential for a manufacturer to maintain a significant product pipeline and invest in research and development (or R&D) activities. The focus is more on breakthrough innovation instead of incremental innovation in order to maintain product differentiation and premium positioning for sustaining competition.
Commoditization and the impact on large players
Economies of scale provide cost efficiencies to large medical device manufacturers where price is the major differentiating factor. With a shift to value-based healthcare, data analytics capabilities and breakthrough innovation have emerged as important determinants of success for a medical device manufacturer. Thus, consolidation across segments has become the buzz word in the medical device industry where large players are establishing various strategic partnerships and entering mergers and acquisition (or M&A) deals such as the acquisition of smaller niche players with the aim of increasing the scope of product offerings and providing superior outcomes at lower total cost of care.
Article continues below advertisement
Becton Dickinson (BDX) acquired Carefusion on March 17, 2015, with the aim of building scale and depth in medication management and infection prevention solutions. In another deal completed on December 22, 2014, Abbott Laboratories (ABT) acquired Topera for expansion and entry into a new segment with Topera's novel product.
A new breed of competitors: Consumer tech
With the analytics and cloud solutions being integrated in medical devices to provide measurable outcomes and aid better diagnosis and treatments, consumer technology companies like Google, Apple, and Microsoft are entering the medical device space. Such companies are helping advance telemedicine and develop products with features like real-time analysis and wireless capabilities. Some examples of such products are smart contact lenses from Google (GOOGL), which can measure glucose levels in tears, and Apple's (AAPL) Smartwatch with fitness tracking and health-related capabilities.
One of the ETFs with significant exposure to some of the biggest players in the medical device industry is the iShares U.S. Medical Devices ETF (IHI).