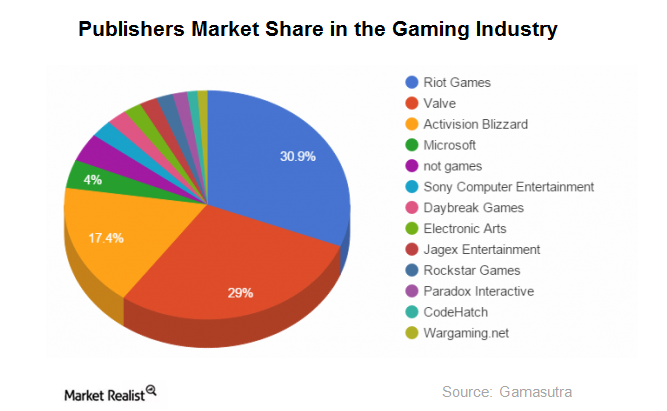 How Activision Blizzard's Call of Duty Performed in 3Q15
Activision Blizzard's core franchises were among the highest grossing mobile games
Previously in the series, we discussed Activision Blizzard's (ATVI) performance in 3Q15 as well as how the company's digital channels and Destiny franchise contributed to its growth. Activision Blizzard's console franchise, Call of Duty, and its PC franchise, World of Warcraft, were two of the top five highest-grossing mobile games, according to the company's 3Q15 earnings release.
In fiscal 3Q15, Activision Blizzard's Call of Duty posted double-digit growth on a YoY (year-over-year) basis on the back of first person shooter, or FPS, games such as Black Ops, Black Ops II, and Advanced Warfare. The company stated that Advanced Warfare, in particular, was the top-selling game on Microsoft (MSFT) Xbox One and Sony (SNE) PlayStation 4.
Article continues below advertisement
Article continues below advertisement
Black Ops II engagement growth bodes well for its upcoming sequel launch
Call of Duty: Black Ops II, a three-year-old game, witnessed engagement growth on a quarter-over-quarter basis to nearly 12 million monthly active users in 3Q15. This also bodes well for Activision Blizzard's upcoming sequel, Call of Duty: Black Ops III, which will be launched on November 6, 2015.
Activision—one of top three players in hours watched across top 20 games
According to Gamasutra and as the above chart shows, three publishers—Riot Games, Valve Corporation, and Activision Blizzard—accounted for approximately 77% of hours watched across the top 20 games on Amazon's (AMZN) Twitch in March 2015. Electronic Arts (EA) has one game—FIFA 15—in the top 20, and Microsoft (MSFT) made the list due to its Minecraft acquisition in 2014.
Activision Blizzard, with core franchises including Destiny, Call of Duty, and Skylanders, is a leading player in the console and PC video games space. Although Skylanders, the company's kids' game franchise, is facing increasing competition from the rise of Disney and Nintendo, Activision Blizzard recently announced its acquisition of King Digital Entertainment on November 2, 2015. This acquisition is expected to provide a boost to the franchise in the mobile gaming space.
The above-mentioned franchises have been instrumental in driving the company's revenue growth, and they are expected to be key to the company's future growth. You can consider investing in the PowerShares QQQ Trust (QQQ) to gain exposure to the technology sector. The ETF invests about 54% of its holdings in the technology sector.