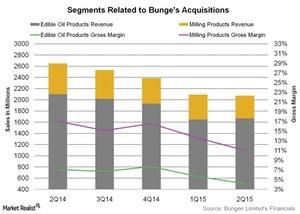 Will Bunge's Acquisitions Help Revive Its Segment Margins?
Acquisition of Whole Harvest Foods
Bunge North America, the North American operating segment of Bunge Limited (BG), announced that it purchased Whole Harvest Foods, a leading refiner and packager of expeller-pressed commercial cooking oil. The company justifies the acquisition of Whole Harvest in saying that Whole Harvest's patented refining process creates a host of minimally processed products that have excellent taste and texture, a long fry life, and require no artificial preservatives. They feel it's a great addition to their product portfolio.
Article continues below advertisement
Whole Harvest Foods
Whole Harvest Foods makes its products from expeller-pressed canola, cottonseed, and soy oils. It will provide solutions to both Bunge's consumer food manufacturers and food service customers. It will be an addition to their Edible Oil segment. The company did not disclose any financial terms related to this acquisition.
Acquisition of Brazilian wheat processor Moinho Pacifico
On August 27, Bunge Brasil, a wholly-owned subsidiary of Bunge Limited, announced that it had agreed to acquire Brazilian wheat processor Moinho Pacifico. The company believes that this deal will allow it to raise its market share for wheat flour and some prepared mixes for the bread making industry. This acquisition is expected to contribute to the company's Milling Products Segment. No financial details were disclosed.
Article continues below advertisement
Other acquisitions since 2Q15
G3 Canada is a Winnipeg, Manitoba-based grain handler that is majority-owned by Bunge and state-owned SALIC (Saudi Agricultural & Livestock Investment Company). Earlier this year, Bunge and SALIC acquired a 50.1% stake in the former Canadian Wheat Board for C$250 million and G3 was formed.
G3 Canada, in a statement on October 13, mentioned that it plans to build a 50,000 metric ton lake terminal at the Port of Hamilton. They plan to spend at ~C$50 million or $38 million to build a grain terminal in southern Ontario to boost exports from the East Coast. The Company's CEO, Karl Gerrand, stated that this facility would help strengthen their presence in eastern Canada since the production of wheat, corn, and soybeans in Ontario has grown significantly.
Bunge's peers include General Mills (GIS) and Flowers Foods (FLO). The Vanguard Consumer Staples ETF (VDC) invests 1.86% in General Mills while the iShares US Consumer Goods ETF (IYK) invests ~1.6% of its portfolio in GIS.
G3's expectations from the project
Management stated that G3 targets annual grain shipments of 800,000 metric tons from the Ontario terminal. The company plans to ship grain either from the Port of Hamilton year-round with its lake vessels or by rail to its terminals in Quebec for export. The company wants to have efficient grain facilities in the right spots to reduce bottlenecks and move grain from farmer's fields to faster export.
In the upcoming 3Q15 earnings results, we'll find out if any of the acquisitions helped Bunge rebound back on its performance. You can check this out on our post earning series on Bunge.