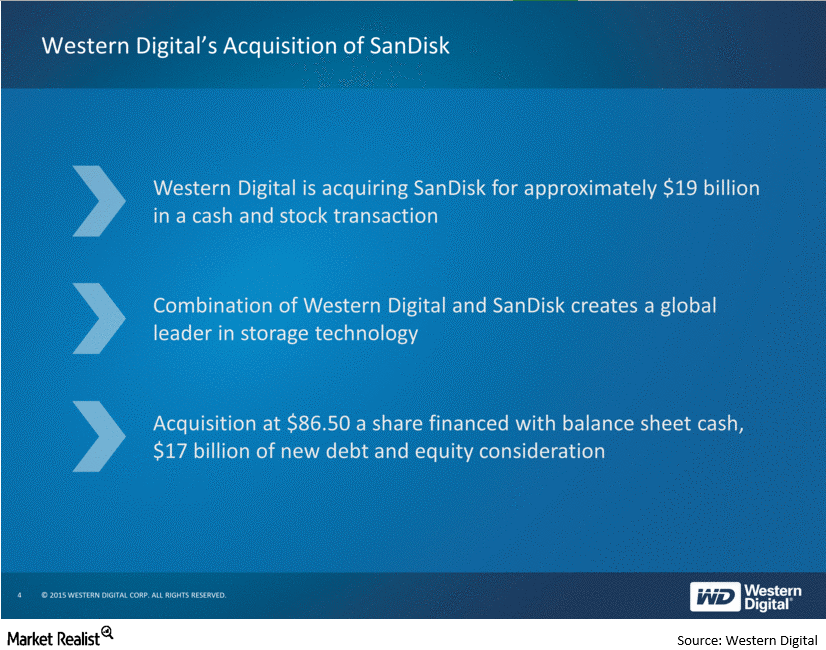 Will Arbitrageurs Set up the SanDisk-Western Digital Merger?
By Brent Nyitray, CFA, MBA

Nov. 15 2015, Updated 7:04 p.m. ET
Antitrust will be a risk to this deal
The risk-to-reward ratio of the SanDisk-Western Digital merger is approximately 3x–4.5x. That is generally a quite attractive risk-to-reward ratio.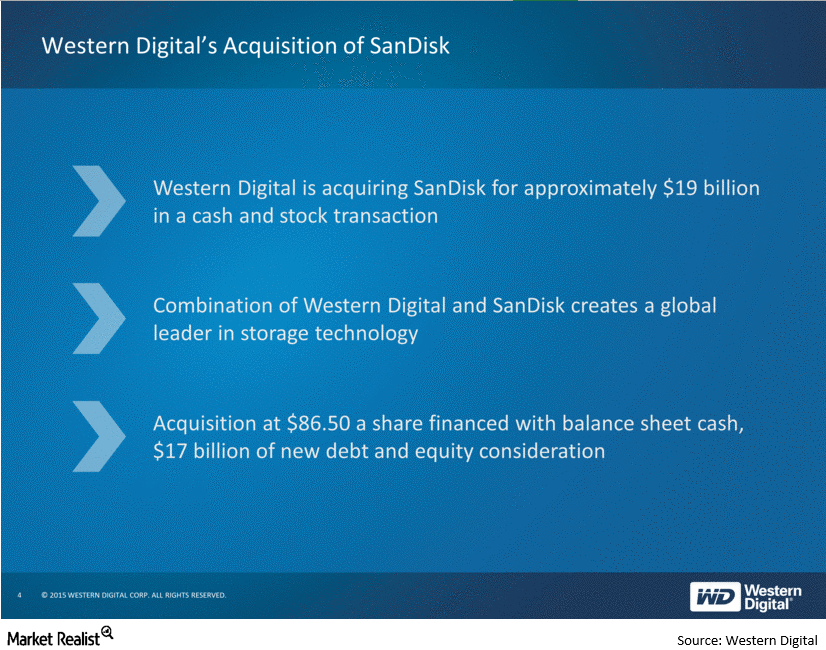 That said, regulators can always be difficult, and they already blocked a deal in the semiconductor sector this year when they blocked the Applied Materials (AMAT) merger with Tokyo Electron. After nearly 18 months, the companies finally threw in the towel.
Article continues below advertisement
To gain antitrust approval, Western Digital (WDC) doesn't have to agree to any divestitures that accounted for more than $250 million in revenue. While it probably makes sense to give up $250 million in revenue instead of paying a $1 billion reverse termination fee, it does give WDC a bit of a "free look" at SanDisk's results over the next year.
What are you actually going to get with this merger?
The consideration will depend on whether the Unisplendour deal closes. If the deal doesn't close, arbitrageurs will need to short a lot more Western Digital. If you set up the spread assuming you are getting $85.10 plus 0.0176 shares of WDC, you are expecting a $9 spread. However, suppose next year the Unisplendour transaction falls apart and you are under-short Western Digital. You will have to sell it at the current market price, which could be materially lower than it is now. If WDC happens to be trading at $50 a share, your actual arbitrage profit will end up being about $2.50 instead of $9.00. In fact, at current prices, the break-even price for WDC is about $38.50. Given that WDC has fallen from $115 to $67.40 already, you cannot rule out the possibility of WDC trading below $40.
The companies are aiming for a September 2016 close, which is probably reasonable given there is a decent chance of a second request. Arbitrageurs who have this position set up will have a positive dividend carry, which compensates them somewhat for the timing risk.
The spread is wide enough that arbitrageurs will probably have a small position. However, the uncertainty over the consideration will probably prevent them from getting big in the merger until we get certainty on the Unisplendour deal.