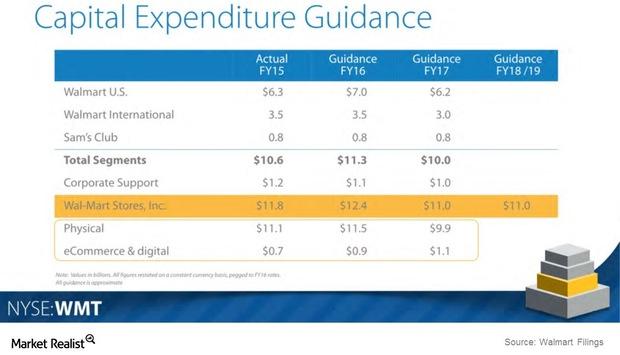 Walmart Lowers Capital Expenditure Projections
By Phalguni Soni

Nov. 20 2020, Updated 11:08 a.m. ET
Walmart's cash deployment plan
Walmart (MWT) expects to generate $80 billion in cash flow over fiscal 2017–2019, up from $75 billion in the last three years. The company plans to deploy the same in funding organic growth initiatives, paying dividends, and buying back its own shares.
As we saw in the last article, Walmart released disappointing guidance for its forecast horizon in fiscal 2016–2019. Walmart also updated its capex (capital expenditure) projections for fiscal 2016, which ends January 31, 2016.
Walmart expects to spend $12.4 billion in fiscal 2016, in the middle of the $11.6–$12.9 billion guidance range provided earlier. The company plans to scale down its investments in information technology and digital, from $1.2–$1.5 billion to $0.9 billion.
Article continues below advertisement
Capital expenditure
The company also released lower capex projections over the forecast horizon. It's now expecting an annual capex spend of $11 billion each year from fiscal 2017 to fiscal 2019. Capex for Walmart US and Walmart International is expected to come down by $800 billion and $500 million, respectively, in fiscal 2017. These figures don't include any expenditure for funding acquisitions.
Walmart's projected capital expenditure of $11 billion in fiscal 2017 is the lowest since fiscal 2004. In contrast, fellow mass merchandisers Costco (COST) and Target (TGT) have both raised their spending plans compared to the last few years.
Costco is projecting capital expenditure of $2.5–$3 billion per year from fiscal 2016 to fiscal 2020.
Target expects to spend $2–$2.5 billion per year over the next five years.
Walmart, Target, and Costco together constitute 1.8% of the portfolio holdings of the iShares S&P 100 ETF (OEF) and 2.5% of the holdings of the iShares S&P 500 Value ETF (IVE).
Lowered store count guidance
The year-over-year decline in capital spending comes as Walmart revised its store expansion plans in the United States for both the supercenter and neighborhood format stores. Walmart is now expecting to open nearly half as many small format stores, or 85–95 stores, in fiscal 2017, compared to the current year with 160–170 stores. Its projections for the supercenter format have also been scaled down from 60–70 stores in fiscal 2016 to 50–60 stores in fiscal 2017.
The next article analyzes the implications of lowered investment spending.