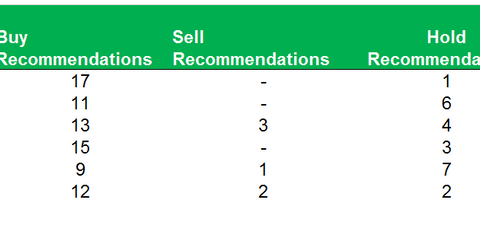 What Does Wall Street Think about Southwest Airlines?
By Santiago Solari

Updated
Wall Street sees an upside potential of 34%
In September, Credit Suisse increased its target price for Southwest Airlines (LUV) to $52. This reflects an upside of roughly 37% from its current share price. Also in September, Cowen and Company reiterated an "outperform" rating, revising its target price downward by $10 to $45.
Of the 20 Wall Street analysts covering the stock, 13 have rated Southwest Airlines a "buy," and three have rated it a "sell." The stock currently trades at $37.98 and has a median target price of $51, for an upside potential of 34%.
As you can see in the above graph, apart from JetBlue Airways (JBLU), most of the large US airline operators predominantly have buy recommendations from Wall Street analysts.
Article continues below advertisement
LUV trades close to its moving averages
Technical analysis is highly effective in exploiting short-term opportunities. A holistic approach is to make use of both technical and fundamental indicators in order to make profitable trades and be successful at active investing.
LUV's current stock price of $37.98 is slightly above its 20-day, 50-day, and 100-day simple moving averages of $38, $38, and $37, respectively. In general, when a stock is trading above its moving average, it's likely to be experiencing an uptrend. When it's below its moving average, it's likely to go through a downtrend. Generally, longer-term moving averages, or 100-day and 200-day, tend to be better indicators of a financial asset's price movement.
The RSI (Relative Strength Index) is another useful technical indicator that measures the momentum of a stock's price. An RSI above 70 is indicative of an overbought condition. An RSI below 30 is considered an oversold condition. When RSI falls below 50 from above 50, it indicates a likely downtrend in prices.
As you can see in the above graph, airline operators such as LUV, JetBlue (JBLU), American Airlines Group (AAL), Delta Air Lines (DAL), United Continental Holdings (UAL), and Alaska Air Group (ALK) are above the oversold territory.
Investors seeking to gain exposure to US airlines can invest in a pooled investment vehicle such as the iShares Transportation Average ETF (IYT), which has a 17% portfolio weighting in airlines.