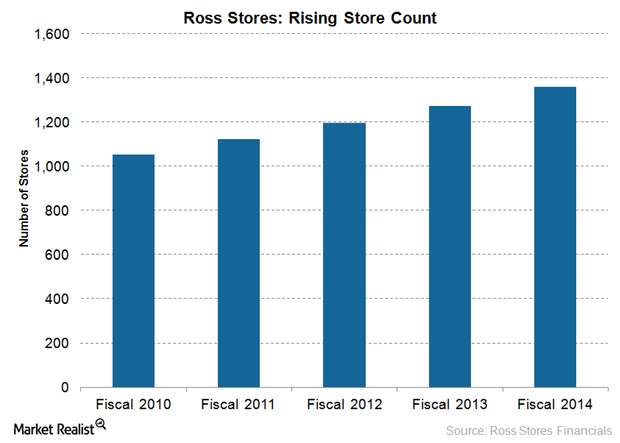 Store Expansion: Ross Stores Spreads into New Territories
Store expansion in fiscal 2014
Competition in the off-price retail space is getting intense, with even department stores such as Macy's (M) venturing into off-price retailing, given the better performance of the format.
However, players such as TJX Companies (TJX) and Ross Stores (ROST) have an extensive presence in off-price retailing. Ross Stores opened 95, 88, and 82 new stores in fiscal 2014, 2013, and 2012, respectively.
In fiscal 2014, Ross Stores opened 86 net new locations, after accounting for stores closed in the year. These consisted of 64 Ross Dress for Less stores and 22 dd's DISCOUNTS stores. The company ended 2014 with 1,362 stores in 33 states, the District of Columbia, and Guam.
Article continues below advertisement
New territories
Aside from the ongoing expansion of Ross Dress for Less stores in established regions, the company has been opening stores in new Midwest markets, which the company started entering in October 2011.
As of the end of 2014, Ross Dress for Less operated a total of 81 locations in the Midwest region, including Illinois, Missouri, Kansas, Kentucky, and Indiana. The dd's DISCOUNTS stores also entered five new states in 2014, including Louisiana, New Jersey, North Carolina, Oklahoma, and Oregon.
Expansion plans for 2015 and the future
For 2015, the company plans to open about 70 new Ross Dress for Less stores and 20 dd's DISCOUNTS stores. The company opened 51 new Ross Dress for Less stores and 13 dd's DISCOUNTS locations in the first six months of fiscal 2015 ended August 1, 2015. Ross Stores had 1,259 Ross for Dress Less and 165 dd's DISCOUNTS stores as of August 1, 2015.
In the long term, Ross Stores aims to expand Ross Dress for Less to a chain of at least 2,000 locations across the United States and dd's DISCOUNTS to ~500 stores. Ross Stores makes up 0.1% of the portfolio holdings of the iShares Dow Jones U.S. ETF (IYY).
Peers' expansion strategies
In the first half of the fiscal year ending August 1, 2015, TJX Companies (TJX) increased its store count by 66 stores, net of store closures. As of August 1, 2015, TJX Companies had 2,629 stores in the United States, 376 stores in Canada, and 456 stores in Europe.
Nordstrom (JWN) plans to open 27 Rack stores in fiscal 2015, of which 11 were opened in the first half of fiscal 2015. Nordstrom plans to end fiscal 2015 with 194 Rack stores. Macy's launched three of its pilot off-price Macy's Backstage stores in the New York region in September 2015 and plans to have a total of six Macy's Backstage stores by the end of 2015.